2010 Senior Bowl: Stock Watch
By: Roshan Bhagat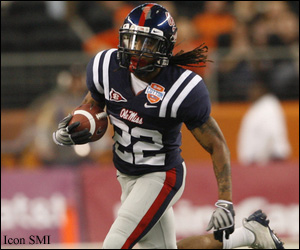 A week of NFL-style practices and the Senior Bowl have come to an end in Mobile, Alabama. Players have had the opportunity to put it all out on the line and show how they respond in high-pressure environments where the details matter. Above all, this week was about improving individual draft stocks for each and every one of the players. Very few players hurt themselves by playing in the Senior Bowl while a number of players were able to boost their draft stock. Who won? Who lost? Here are the 10 players I felt helped their stocked the most followed by 5 I thought hurt themselves a little.
Stock Up:
Dexter McCluster, RB, Mississippi – Though he measured in at only 5'8 and 165 pounds, McCluster did everything else right throughout practice to quickly rise to a likely 2nd round prospect. McCluster has game-breaking speed and difficult to track down in the open field, but that's not only what he showed this week. He lined up at both running back and wide receiver, showing versatility on the same wavelength as a Percy Harvin, Reggie Bush, or Darren Sproles. McCluster has the toughness to be an inside runner in the NFL, though not as an every-down back, and the route-running to take plays from out wide. He took some snaps as a returner this year and will likely be trained to do the same at next level. Prior to this week, McCluster was probably a 3rd round pick at best, but probably moved up by a round based on his week of practice.
Ed Dickson, TE, Oregon – Dickson made plays and impressed on literally every day this week. In practices, he showed fluidity as by far the best route-runner at the Senior Bowl. He made several tough catches in traffic and made very few errors, if any. He catches the ball in stride and can continue making progress downfield in a hurry. Based on his career at Oregon and impressive practices this week, he reminds me a lot of Green Bay's tight end, Jermichael Finley who has become one of the biggest match-up nightmares among tight ends in the NFL. Dickson is too big for a corner and too fast and fluid for most linebackers and safeties. He has some room to improve as an in-line blocker, but is sure to be one of the first tight ends taken and should be off the board by the end of the second round.
Mike Iupati, OG, Idaho – Mike Iupati caught the eye of many scouts, general managers, coaches, analysts, and anyone else covering the event. His playing strength and ability to knock people off the line is remarkable. At one point, few thought he could even be a 5-position player, but as the week progressed it became more apparent that he doesn't have the foot speed to become a left tackle. Iupati separated himself from the competition at guard and could become an All-Pro at the position in the mold of Alan Faneca if he continues to improve his footwork. Iupati was thought to be a borderline 1st round prospect prior to this week, but has moved his way potentially into the first 16 picks of the draft.
Brandon Graham, DE, Michigan – Buzz from around the league suggests a mixed opinion on Brandon Graham and how his 6'1 frame and 30 ˝" arms will stunt his effectiveness at the next level. Though he wasn't forced to face any elite offensive tackle prospects this week, Graham continued to do this week what he's done through his past two years at Michigan. He knocks offensive tackles off balance with an explosive first step and has good technique in rushing the passer. His speed around the edge is his biggest asset, though he has the strength and shows a fundamental understanding of leverage to cause a ruckus in the run game. Next month at the Combine, he'll have the opportunity to show off his athleticism and more thoroughly prove that he can stand up in certain schemes. Right now, he reminds me very much of a breed between LaMarr Woodley and Trent Cole.
Joique Bell, RB, Wayne State – Bell may lose a little bit of the money he earned this week with a mediocre showing at the Combine next month. Still, I think the Senior Bowl proved to scouts that Bell can be a consistent factor in the NFL. He has the build of the prototype running back. This week he beat defenses with vision and tenacity as a runner. He did a great job in blitz pick-up, which will prove to be very valuable with playing time once he gets into an NFL training camp. Bell has nearly everything you could want in a running back, including the innate ability to hit a hole as soon as it opens, which will help compensate for his lack of elite speed.
Myron Rolle, S, Florida State – We didn't know what to expect from the Rhodes Scholar after having spent a year away from football. He answered questions this week that he's ready to pick up where he left off. It shows that Rolle has been working hard to get back into shape and seized his moment here this week. In this talented class, Rolle came into the week having the potential to even go undrafted, but after showing smooth hips and the ability to make plays around the line of scrimmage, he should have worked his way into the middle to later rounds. No player had more pressure to produce than Rolle this week and he made the most of his opportunity.
Sean Weatherspoon, OLB, Missouri – Weatherspoon was a little quiet – production-wise, certainly not with his mouth – throughout practices this week. From what we heard of Weatherspoon, he has the natural ability to become a leader in the locker room. If he continues to play like he did this week, it won't take him much time to ascend to one of the leadership roles in the NFL. Weatherspoon showed true sideline-to-sideline range all week. He did a great job getting good depth on his zone drops and fluidity in sticking tight in man coverage. In the game, when it mattered most, Weatherspoon showed up several times, but none more important than the crucial interception to halt a likely scoring drive for the North team. After this week, I'd be shocked to see him escape the first round. He seems like an ideal WILL linebacker for a 4-3 defense.
Mardy Gilyard, WR, Cincinnati – Gilyard struggled through the first day and somewhat in the second. After he calmed his nerves and settled in, Gilyard was one of the best receivers at the Senior Bowl. His remarkably quick feet even made his teammates look bad in comparison. There may have been more consistent players there, but few were making more big plays than Gilyard. He was the favorite target of college teammate Tony Pike early in Saturday's game, but that trend continued even with other quarterbacks in the game. He weighs only 179 pounds, but reminds me a little of DeSean Jackson in the way he plays the game – both at receiver and returner.
Dan Williams, DT, Tennessee – Williams may have separated himself from Terrence Cody as the best pure nose tackle in the draft. Not only is Williams in shape, but he the ideal build of a player you ask to hold the double team at the point of attack, which includes a lot of mass in the trunk. He uses his arms well and keeps his legs underneath him to stay balanced. Williams plays with good technique and stays low, a natural advantage he has in his height over Cody. Prior to Senior Bowl week, many had labeled him a borderline player between the 1st and 2nd with a higher chance of the former. After the consistency he displayed as a two-gap defensive tackle this week, Williams may be off the board before pick 20.
Kyle Wilson, CB, Boise State – Wilson had a fantastic week by all accounts. Among all defensive backs present this week, Wilson seems to have the best football IQ. He reads the 3-step drop very well and is confident enough in his abilities that he breaks on the route without hesitation. Wilson has smooth hips, overall fluidity in his movements, a nice backpedal, and a great transition. In one-on-one match-ups, very few receivers were able to beat him and those that were had Wilson draped on their back. He showed his willingness in run support. In all regards, Wilson reminds me a lot of a player that's succeeding as a starting corner on the Cowboys today – Mike Jenkins.
Honorable Mentions: Jarrett Brown, QB, West Virginia; Jeff Byers, OL, USC; Alex Carrington, DE, Arkansas State; Mike Johnson, OG, Alabama; Brandon Lang, DE, Troy; Andre Roberts, WR, The Citadel; Tyson Alualu, DT, California; LeGarrette Blount, RB, Oregon; Jared Odrick, DT, Penn State; Taylor Price, WR, Ohio
Stock Down:
Trevard Lindley, CB, Kentucky – Lindley was one my favorite prospects from a year ago, and needed to have a big week here to help move his draft stock into the area of where it was last year. Instead, he just struggled nearly every day this week. He was beat deep on many occasions throughout the week, which came as a surprise. Lindley did show fluidity and quick feet. He was never really caught that badly out of position, but oftentimes just didn't show the ball awareness to make a play on the backend of the play. He was a likely second rounder prior to the season, a 3rd rounder after this season, and probably a 4th rounder at best, based on potential, after this week.
Tim Tebow, QB, Florida – Tebow deserves a lot of praise for just showing up this week and accepting coaching throughout the week and I hope that Tebow's magnified struggles this week don't discourage players from showing up in the future. What we saw this week from Tebow was a release that's among the worst I've seen from highly projected picks over the last decade. His mechanics make Byron Leftwich seem like Dan Marino. He showed marginal arm strength on the short and intermediate ball, but consistently threw a very pretty deep ball. Tebow struggled to make quick reads and seemed hesitant to throw passes to receivers just coming out of their breaks. He had a lot of help playing mostly out of the shotgun during the game, yet still finished with the worst yards per attempt of all six quarterbacks.
Sam Young, OT, Notre Dame – Young looked okay in the game for the most part, but struggled immensely throughout the week in both one-on-ones and team drills. He has a great work ethic and gives everything on every down, but at the end of the day just lacks the quick-twitch movements to stop some of the better athletes. He also doesn't have the strength to be a dominating run blocker. He's a right tackle only, but probably only a back-up, which typically don't exist in the NFL.
Terrence Cody, DT, Alabama – Mount Cody showed up incredibly out of shape and had an inconsistent week. His stock will somewhat be tied to Dan Williams who plays the same position that Cody likely will in the NFL. While Williams came to Mobile in shape and showed great balance and consistency, Cody did just the opposite. He was neutralized by double teams, but also lacked balanced, getting knocked to the ground on several occasions. Cody wasn't bad this week as much as he was disappointing. For a player that will only give you 40-45% of a defense's total snaps, Cody needed to play with better consistency. As of now, he likely dropped at least to the 2nd round.
Eric Norwood, OLB, South Carolina – Playing alongside Brandon Graham, Antonio Coleman, Brandon Lang , George Selvie, and others, Eric Norwood was remarkably quiet for much of the week. Granted he didn't get as many of the opportunities to show his pass-rushing ability, Norwood didn't really impress in any areas this week. He looked pretty stiff in coverage for most of the week. He typically excels in game situations, but was once again nowhere to be found, recording only a single tackle on the afternoon. Norwood will be evaluated on a lot more than his week in Mobile, but in comparison to his peers, he lost some money this week.
NFL Draft | 2016 NFL Mock Drafts | Profiles | 2016 NFL Free Agents | NFL Forum | Contact
Copyright &copy 2016 FootballsFuture.com. Do not duplicate or redistribute an any form.
Privacy Policy