Tight Ends:
James Hanna, Oklahoma - Hanna wasn't on too many radars coming into the week, but after running a 4.49 40 at 252 pounds and finishing inside the top 4 in all of the timed activities, Hanna will send scouts back to the tape. For Hanna, that's all he could have asked for this week.
Drake Dunsmore, TE, Northwestern - Dunsmore, like Hanna, will have teams retreating back to the tape. He had solid production, but didn't stand out in any specific area. At 241 pounds, he's a part of the new mold of tight ends that will play on their feet. With the skyrocketing production of tight ends in the league, it should only help Dunsmore.
Deangelo Peterson, TE, LSU - At 6'3, 243, Peterson to me looks like one of the most natural athletes on the field. His numbers across the board were not quite a spectacle, but he looked smooth running around. However, in the gauntlet, he dropped 3 of 5 balls, looking a bit rattled. It wasn't quite the Combine I had expected, but even on a bad day, he looked like a natural football athlete on his feet.
Orson Charles, TE, Georgia - After setting a Combine record with 35 reps on the bench, Charles decided to forgo the rest of the drills. Deciding to enter the draft late, he felt he was missing out on 2 weeks of preparation coming into this week and will choose to instead fill out the numbers at his Pro Day. A great week could have potentially propelled him ahead of Coby Fleener, the number one tight end on most boards right now.
Offensive Linemen:
Matt Kalil, OT, USC - Kalil wowed scouts with his athletic ability putting him on par at the Combine with some of the elite left tackles of the last two decades. Putting impressive marks across the board, he reaffirmed the physical tools he has to play the position. This workout will certainly make the Rams think twice about trading away the #2 pick.
Mike Adams, OT, Ohio State - Adams will probably leave the weekend as one of the most buzzed about Combine performances--particularly because it drew such mixed reviews. In recorded measures, Adams disappointed across the board, though in the drills looked significantly better than he tested. In all, this week will probably do nothing for his stock, but bring enough ammo to the table for both polarizing opinions to continue the debate.
Tom Compton, OT, South Dakota - The Combine is always a great setting for small school players to compete on a level playing field with the big school players and show they have the physical tools to compete at the next level. Compton took advantage of every opportunity and posted numbers that ranked highly across the board. Particularly, he was impressive in lateral movement.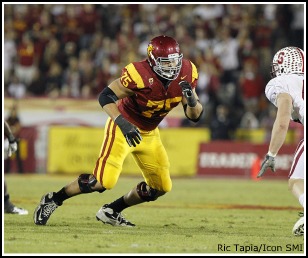 Cordy Glenn, OT, Georgia - Like Adams, Glenn will leave this week with mixed reviews. With a large wingspan (35 1/4" arms) and massive size at 345 pounds, Glenn will appeal to some as a tackle and to others as a guard. His 5.15 40 will appeal to some to signify athleticism, but more importantly, his shuttle and cone were average for a man his size. Glenn's performance in the drills wonÕt impress them too much. He looked a bit stiff, but still has nice upside out at right tackle or inside at guard.
David Decastro, OG, Stanford - Many consider Decastro to be one of the best guard prospects in some time. He left no room for doubt to creep in this week with his on-field performance on Saturday. Showing great athletic ability and good movement skills on the move, Decastro figures to be a big time player this fall.
Adam Gettis, OG, Iowa - Gettis often got lost in the fray at Iowa, but brought back to the spotlight his athletic ability, finishing with top marks across the board aside from the Cone drill. He will probably be more intriguing to teams that value athletic ability and explosiveness out of a guard over pure power.
Peter Konz, C, Wisconsin - Konz may worry some after putting up only 18 reps on the bench, but there's plenty of linemen over the years that weren't weight room freaks. More important is functional football strength of which Konz has plenty. While a lot of the buzz will jump Michigan's David Molk up a couple rounds because of his 41 reps or Konz down half a round because of his 18, in reality, they still have the same strength they played with in college and what is available on tape. In other words, it's a virtual non-factor.