Quarterbacks
For the quarterback group that included quite a few absences, there wasn't a whole lot of movement in stock this week. Besides the top two quarterbacks that impressed athletically, but decided not to throw and an outsider that received some praise, no quarterbacks rocketed up the board and no quarterbacks fell like a bag of bricks.
Robert Griffin, Baylor - Deciding to forgo the passing drills (which I strongly dislike at the Combine anyway), Griffin put on a show in other ways. His 4.41 40 yard dash got a nice buzz going in the morning and his 39" vertical and 10'0" broad jump capped his display of remarkable athleticism. However, as a quarterback, the big show will be put on at his Pro Day on March 21.
Andrew Luck, Stanford - The other big time non-thrower at the combine, Andrew Luck also excelled in the athletic drills while deferring to his Pro Day on the 22nd to throw the football. His numbers across the board resembled those of Cam Newton a year ago, which to may come as a surprise to some. To others, it's just another reason they had/have him pegged as one of the best quarterback prospects in a long time.
Kirk Cousins, Michigan State - While Cousins may not have aced any part of the athletic drills, he generated some positive buzz out of Indy with his intangibles. He was supposedly impressive inside the classroom demonstrating the ability to become a leader. In other words, he impressed in the part of this week that is by and large considered the most important to many teams. As an added bonus, he looked comfortable throwing the ball in drills too.
Running Backs
David Wilson, Virginia Tech - Wilson is another potential second-round prospect looking to capitalize in a thin class. His 4.49 40 suggest he has ample speed to play at the next level, but his position-best 41" vertical and 11'0" broad jump show tremendous lower half explosiveness, while solid times in the 3-cone and shuttle drills imply good quickness and change of direction. He helped himself as much as any at the position.
Lamar Miller, Miami (FL) - In the race for second running back off the board, Lamar Miller probably took a slight lead on other backs. His official 4.40 40 yard dash was the fastest among all participants at his position. Given his solid size and terrific production in college, he certainly figures to have the upper hand once day two gets underway.
Lamichael James, Oregon - No running backs in this year's class broke below the 4.4 mark, but Lamichael James looked as if he just may carrying an unofficial 4.37. His official 4.45 still showed scouts enough speed to at 194 pounds to give his stock a slight boost. With running backs beginning to pull the short end of the stick in the selection process due to durability, James' Combine performance should help plant a solid athletic foundation for his case to be selected in the second round.
Chris Rainey, Florida - There was a lot of excitement coming into this week to see what Chris Rainey would run in his 40. When all was said and done, his 4.45 did nothing to excite fans, but teams will figure to view him as a player who looks faster on the field. And more importantly, his 3.93 shuttle and 6.50 Cone numbers suggest he has plenty of short area explosiveness to separate and make defenders miss. Teams will just need to figure out what they think he can be taught and in how many ways he can be utilized.
Doug Martin, Boise State - Martin did nothing to detract from his resume coming into the week. For his 5'9, 223 pound frame, a 4.55 40 yard dash was to be expected. It won't do anything to get teams excited about him in the first round, but for teams looking to add depth to their scant backfields in the second or third round, Martin will give them what they need.
Wide Receivers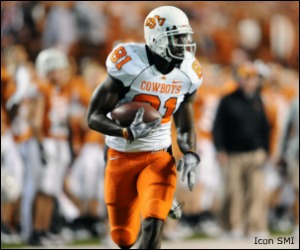 Justin Blackmon, Oklahoma State - Though Blackmon decided not to participate in the stopwatch activities, he took part in the quarterback-receiver drills. Just as in college, Blackmon looked very smooth and explosive in and out of breaks and a natural catcher of the football. Like some of the best receivers in the league, he tends to attack the football rather than passively allow it to get to him.
Michael Floyd, Notre Dame - Floyd had a terrific week in Indy helping himself out with a 4.47 40 yard dash at 220 pounds. For a receiver whose greatest impact is in the vertical passing game, a sub 4.5 time was important for him. He also rolled his success into the drills where he looked like a natural receiver.
Stephen Hill, Georgia Tech - At 6'4, 215 pounds, Stephen Hill's 4.36 40 yard dash, 39.5" vertical, and 11'1" broad jump will intrigue teams with his explosiveness. Then comes the headache of trying to evaluate his game tape at Georgia Tech, where he had only 28 receptions, albeit for 820 yards. DeMaryius Thomas will come to the minds of some, but don't expect Hill to go quite as high.
Chris Owusu, Stanford - It was nice to see Owusu making some noise back on the field. After suffering 3 concussions in a 13-month span at Stanford, Owusu was medically cleared for the Combine and took advantage of the opportunity. With a 4.36 40 and a 40.5" vertical, it'll show teams the type of potential he has. However, in an era that stresses precaution and safety with concussions, how will his medical evaluation at the Combine hold up and how will that translate to the draft in April?
Tommy Streeter, Miami(FL) - For 6'4 1/2 Streeter, a 4.40 40 was bound to turn some heads. Now the tough part for teams will be returning to the tape to see if that speed translated to the field in any capacity. If so, why didn't it show up all the time? If they think it's correctable and they can get Streeter to play faster more consistently, his high-end speed would certainly be intriguing for vertical offenses.
Mohamed Sanu, Rutgers - A 4.67 40 isn't going to get anyone buzzing big time at Indy, but what Sanu delivered in the drills certainly ought to. He reinforced the fundamentals in his game looking like one of the most natural receivers in the class. After catching 115 balls a year ago, Sanu proceeded to catch virtually everything thrown in his direction on Sunday, adjusting for passes when he needed to and confidently making hands catches on just about everything. With similar receivers making a living out of the slot position, it'll be interesting to see just how adversely the 40 time will give doubts into his ability to separate at the next level.