2014 NFL Mock Draft
By: Robert Davis | Updated: 11/28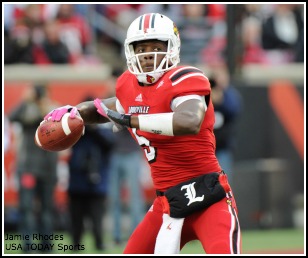 Jacksonville - Teddy Bridgewater, QB, Louisville
The Blaine Gabbert experiment is over. And Chad Henne isn't the answer either.
Tampa Bay - Jadaveon Clowney, DE, South Carolina
The draft's biggest game changer would be a welcomed addition to the Bucs defensive front.
Atlanta - Jake Matthews, OT, Texas AM
Injuries have taken it's toll on the Falcons this year, but they should bounce back strong next year. Upgrading the left tackle position will be a priority, and landing the draft's top tackle would make a lot of sense.
Minnesota - Marcus Mariota, QB, Oregon
Three players have starter under center for the Vikings this year, and none appear to be the long term answer. Mariota's upside and dual threat ability would be hard to pass on at this point.
Houston - Anthony Barr, OLB, Houston
Brooks Reed's sack totals have declined each year, and he could move inside to help there. Pairing Barr with JJ Watt would be terrifying for opposing offense. A QB may be a need, but unless one of the top two slide, it won't likely be with this spot.
Buffalo - Taylor Lewan, OT, Michigan
A true left tackle has been a need for years. Adding Lewan would allow Cordy Glenn to move to right tackle or even guard, more natural positions for him.
Pittsburgh- Cyrus Kouandjio, OT, Alabama
As Ben Roethlisberger gets older, the need to protect his blind side gets more important. Kouandjio has very good natural tools, a lot of experience, and is still refining his game. The sky is the limit.
St. Louis(Was) - Louis Nix, DT, Notre Dame
A defensive tackle may not be the most glaring need, but you can never have enough talented 300lbers. Or in Nix's case, 330lbs. Nix commands a double team on every snap, and would give the Rams a tremendous young interior defensive line rotation. Having two first round picks allows them to go best player available at this point.
Oakland - Marqise Lee, WR, USC
Lee has been banged up and dropped a few passes, but he'll get that ironed out. He's the most explosive wide out in the draft, and has legitimate go to ability. The Raiders may be tempted to look at Brett Hundley here, but upgrading the talent around the QB gets the nod first.
NY Giants - CJ Moseley, LB, Alabama
When the Giants were contenders, they had front seven defenders that could run and make plays. While DE was a strength, so was the linebacker position. Moseley is the type of player that can lead a defense because of his intelligence and leadership skills, but can also chase the the football and make plays as well as any in this draft.

St. Louis - Ha Ha Clinton-Dix, S, Alabama
This may be a bit high, but the Rams can afford to reach for a need with two first rounders. Clinton-Dix is head and shoulders above the rest of the class at the free safety position, so anyone that is in need of one, better do it early.
Cleveland - Brett Hundley, QB, UCLA
Brandon Weeden has turned out to be a wasted first rounder just two years ago. It's time to find a long term answer, and Hundley's dual threat ability would give them a new element to their offense. Hundley may need a little time to adjust, but he gives the team a QB as gifted as any in this class.
Miami - Cameron Erving, OT, Florida St
Offensive tackle was a need before the bullying situation, and the line is now down two more players. Incognito and Martin may never suit up for the Phins again, so upgrading the talent on the line is a must. Erving is a tremendous athlete that continues to improve, and could be as good as any tackle from this draft class.
Baltimore - Sammy Watkins, WR, Clemson
Watkins is the best player available and arguably the drafts top wide receiver. Joe Flacco needs weapons, so this pick should be made relatively quick.
Tennessee - Ifo Ekpre-Olomu, CB, Oregon
With the emergence of running quarterbacks the past two years, corners that can stop the run become a priority. Ekpre-Olomu is a quality cover man, but willing in run support as well.
San Diego - Vic Beasley, OLB, Clemson
The Chargers use to have tremendous talent coming off the edges on defense, but no longer. Injuries have decimated their depth on the edge. Beasley is an explosive edge rusher that is as gifted as any pass rusher in the draft. He may need time to develop the rest of his skills, but he can rush the passer from day one.
Philadelphia Ifo Ekpre-Olomu, CB, Oregon
With Nick Foles taking off as the QB, the Eagles can address the secondary with this pick. Ekpre-Olomu is a quality cover man, but can also help in run support, which is a necessity in todays NFL.
Green Bay - Eric Ebron, TE, North Carolina
The unfortunate injury to Jermichael Finley may have forced the Packers hand this off season. Finley wasn't a lock to return, and his season ending neck injury will definitely push the Pack towards a tight end upgrade. Ebron is a fantastic receiver and will cause major matchup problems in space.
Chicago - Stephon Tuitt, DL, Notre Dame
Tuitt is best suited at DT for the Bears, where he'll provide them a pocket collapsing presence up the middle. But he can also bounce out to the edge at times, giving the team some flexibility depending on the opponent.
Arizona - Johnny Manziel, QB, Texas AM
Carson Palmer is only a stop gap solution, so a long term answer will be sought on draft day. Manziel will be heavily scrutinized around the draft, but his playmaking ability is undeniable.
Dallas - Timmy Jernigan, DT, Florida St.
Transitioning from a 3-4 to the 4-3 is a tough task to accomplish is one year, especially with aging defenders in the front seven. Pressure up the middle is necessary for Monte Kiffin's defense to work, and Jernigan brings a lot of quickness and athleticism to the position.
NY Jets - De'Antony Thomas, RB/WR, Oregon
Thomas may not have a defined position but he is lightning in a bottle. For an offense lacking speed and playmaking ability, there isn't a better addition. The Jets were rumored to be in love with Tavon Austin last year but the Rams jumped in front to select him. Thomas brings a lot of the same open field ability, but can also carry the ball out of the backfield.
Cincinnati - Khalil Mack, LB, Buffalo
Mack is a physical specimen will all around skills. He could blow up at the combine and go even higher than this, but the Bengals would be ecstatic if he were still on the board at this point.
Detroit - Justin Gilbert, CB, Oklahoma St.
Gilbert has bounced back after a tough junior year, and is rising as a prospect every week. He has all the skills to be a shut down corner at the next level, and the Lions would love to add that type of talent to their secondary.
Carolina - Antonio Richardson, OT, Tennessee
A lot of the talent around Cam Newton is aging, especially Jordan Gross at left tackle. Grabbing a young tackle to ensure Cam Newton can spend time in the pocket will be a top priority this off season.
Cleveland(Indy) - Bradley Roby, CB, Ohio St.
After landing a QB with their first pick, they opt for a corner here to pair with Joe Haden. Roby hasn't had the shut down year expected, but he's still a gifted prospect.
San Francisco - Mike Evans, WR, Texas AM
The WR position still is a need. Evans isn't the fastest receiver, but at 6'4 225, he doesn't need to be. Teams would have a lot of trouble defending Vernon Davis and Evans in the red zone.
New England - Ra'Shede Hageman, DT, Minnesota
Depth at DT has been decimated by injuries this year, and could be the single biggest issue the Patriots face on their quest for a title. They're starting two undrafted free agents, with a third in the rotation and just traded for Isaac Sopoaga. Adding more talent to the defensive tackle position will definitely be on the must list this off season.
New Orleans - Loucheiz Purifoy, CB, Florida
The pass rush and corner position seem to be on the Saints wish list every off season. This year, they address the corner spot with Purifoy, adding some length and athleticism to the unit.
Kansas City - Jace Amaro, TE, Texas Tech
What the Chiefs have been able to accomplish with limited weapons in the passing game has been amazing. Adding a big, athletic target like Amaro would be a huge boost. His presence over the middle would not only give Alex Smith a big target, but would help soften coverage on the outside and over the top of the defense.
Seattle - Dominique Easley, DT, Florida
Pete Carroll isn't afraid to take a risk. Easley's season ended early with a knee injury, but was a potential top 15 pick prior the injury. His quickness and athleticism on the interior line stands out, and Carroll loves great athletes.
Denver - Jason Verrett, CB, TCU
The Broncos are trying to win as much as possible now with Peyton Manning, so upgrading the corner position will be looked at this off season. Verrett can play now and is arguably the top cover man in the draft, but is a bit smaller than others at his position.
NFL Draft | 2013 NFL Mock Drafts | Profiles | 2013 NFL Free Agents | NFL Forum | Contact
Copyright &copy 2013 FootballsFuture.com. Do not duplicate or redistribute an any form.
Privacy Policy