2017 NFL Mock Draft
By: Robert Davis | Updated: 2/22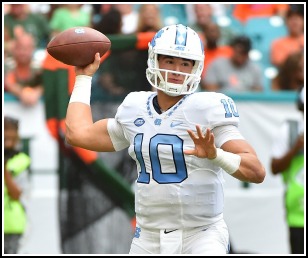 Cleveland - Myles Garrett, DE, Texas AM
The Browns opt for the draft's top pass rusher and arguably the best overall talent.
San Francisco - Mitch Trubisky, QB, North Carolina
This is a pick that could easily be moved because the 49ers have so many needs. If they pick at this spot though, they have to address the QB spot and Trubisky would be the likely pick. He's a bit further along than the other prospects and is more suited to do what Kyle Shanahan wants to do on offense.
Chicago - Jonathan Allen, DL, Alabama
Allen is the best player on the board. Pairing him with last years second rounder Eddie Goldman would give the Bears an excellent duo up front.
Jacksonville - Leonard Fournette, RB, LSU
Fournette is the type of back you build an offense around. With Blake Bortles' inconsistency, they need someone to take the pressure off. No other pick could make as big of an impact at this spot.
Tennessee(from LAR) - Marshon Lattimore, CB, Ohio St.
The Titans will address the secondary this off season. Grabbing someone at this spot allows them to pick the guy they deem the best with the most upside. Lattimore is that guy.
NY Jets - Teez Tabor, CB, Florida
Reaching for a QB here probably isn't wise with the Jets recent history at the position, so they opt for their next biggest need: corner. Tabor's cover and ball skills stand out and are exactly what the Jets need to add this off season.
LA Chargers - Malik Hooker, S, Ohio St.
Earl Thomas has shown teams how valuable a rangy ball hawk can be at safety. Hooker has just two years experience at the college level, but his ability to go get the football is big time.
Carolina - Dalvin Cook, RB, Florida St.
Cook would bring a big play element the Panthers have not had out of the backfield in a long time. He is capable of carrying the ball 20 times, but is also a threat to score any time he touches it. His big play ability would go a long way towards opening up the passing attack for Cam Newton.
Cincinnati - Reuben Foster, LB, Alabama
Speed at linebacker has been a concern for a few years, and now the Bengals finally land it. It comes in the form of a true middle linebacker, and one that can set the tone for the entire defense.
Buffalo - Mike Williams, WR, Clemson
Sammy Watkins is injury prone, and there isn't much around him even if he's on the field. Williams gives them another playmaker, but one with more bulk and physicality to complement Watkins.

New Orleans - Solomon Thomas, DE, Stanford
Rushing the passer is still a need for the Saints, and Thomas can apply pressure off the edge. He's also stout versus the run. Adding Thomas to Cameron Jordan and last years first round pick, DT Sheldon Rankins, finally gives the Saints something to be excited about on defense.
Cleveland(from Phi) - Deshaun Watson, QB, Clemson
This is the popular spot for a projected Jimmy Garoppolo trade, but that bridge hasn't been crossed yet. The Browns have to address the QB spot, and after waiting until the third round last year, they are all but certain to address it earlier this year. Watson needs some work, but the talent and intangibles are not a question mark. He's a great piece for Hue Jackson to work with.
Arizona - DeShone Kizer, QB, Notre Dame
Carson Palmer is likely on his last season in the NFL. The Cards have to prepare someone to replace him, and Kizer has as much potential as anyone at the position in this draft. Sitting behind Palmer for a year, or at least part of the year if his 2016 struggles continue, would be a great setting for Kizer to develop.
Philadelphia(from Min) - Sidney Jones, CB, Washington
If not for some concerns over his lack of bulk, Jones could push Lattimore for the top CB spot in the draft. The Eagles have a glaring need at the CB spot, and his ability to step in right away is a big plus.
Indianapolis - Tim Williams, LB, Alabama
The Colts have been successful over the years with undersized speed rushers off the edge. Williams has the explosiveness to be the next great one, and with Robert Mathis' retirement, the need is obvious.
Balitmore - Corey Davis, WR, Western Michigan
Breshad Perriman gave some flashes as a second year man, but he's more of a vertical threat. Davis would give the team a polished threat that make plays on intermediate routes to help open up the passing attack for Joe Flacco.
Washington - Jamal Adams, S, LSU
Adams would be a steal here, and would fill an obvious need for the Redskins.
Tennessee - John Ross, WR, Washington
The offense needs some speed to stretch the defense. Ross is a burner, but he is also great with the ball in his hands. He can take it the distance any time he touches it, which is something the defense will have to account for.
Tampa Bay - Ryan Ramczyk, OT, Wisconsin
This pick could go a number of ways, but if Jameis Winston is their franchise, then they need to protect him. Donovan Smith has been terrible through two years, and never should've been a left tackle to begin with at the NFL level. Putting Ramczyk on the left side allows some shuffling elsewhere. Smith could move inside to guard, and Ali Marpet could shift over to center. Whatever happens, Ramczyk is an upgrade over Smith at left tackle, and that helps the offense a lot.
Denver - OJ Howard, TE, Alabama
Howard has the potential to be a good blocker and a tremendous weapon as a receiver. The Bronco offense has been looking for consistency and playmaking ability at tight end for two years, and they may have ended their search with this pick.
Detroit - Derek Barnett, DE, Tennessee
Upgrading the pass rush is going to be a focal point of the off season for the Lions. Barnett stands out with his toughness and ability to consistently apply pressure, which is exactly what the Lions need.
Miami - Haason Reddick, LB, Temple
Reddick blew people away with his ability to play in space at the Senior Bowl. He has the ability to provide a lot of different roles on the field, without missing a snap. He's known for his ability to put his hand down and rush the passer, but impressed with his ability to play in space and cover. For a team needing help at linebacker and possibly some depth off the edge on passing downs, Reddick checks off all the boxes.
NY Giants - David Njoku, TE, Miami
Njoku is as athletically gifted as any tight end in the NFL. He will need work to refine his game and time to gain experience, but he's a potential difference maker. His athleticism allows him to be utilized in a number of ways, and that could get him on the field early. For a passing attack that could use some size, that versatility is a plus.
Oakland - Marlon Humphrey, CB, Alabama
Humphrey provides excellent value at this point, and fills a large need for the team. He may need some time to develop, but his talent, bloodlines, and coaching received in college have him primed for a long career in the NFL.
Houston - Zach Cunningham, LB, Vanderbilt
Cunningham is a long, athletic linebacker with versatility and range. That happens to be a large need for the Texans.
Seattle - Forrest Lamp, OL, Western Kentucky
Lamp is one of the best offensive linemen in this draft, no matter where he profiles. He could be the best left tackle, but there are concerns about his length. He could legitimately play all five spots up front, but with the need at tackle, the Seahawks will try him out there first.
Kansas City - Malik McDowell, DL, Michigan St.
McDowell has the talent to land in the top ten of the draft. He's got the size, strength, and athleticism to do a lot of things up front. He's tremendous value here and gives the Chiefs some depth and versatility up front.
Dallas - Taco Charlton, DE, Michigan
Charlton started to come into his own as a senior, and his best football may lie ahead. He has a great blend of size, athleticism, and strength and could be an all around force at defensive end.
Green Bay - Tre'Davious White, CB, LSU
The secondary was hit with injuries, but it was a glaring issue for the Packers this year. White is a great cover man that can play in the slot or on the outside.
Pittsburgh - Takk McKinley, LB, UCLA
Bud Dupree came on down the stretch, but the other side is still an issue and there isn't much depth as age and free agency could cause big problems. McKinley is an explosive pass rusher that would be a great pick at this point.
Atlanta - Caleb Brantley, DT, Florida
The defensive line is going to get some reinforcements this off season. The Falcons could go for more help on the edge, or to get stronger up the middle. Brantley gives them someone who can stop the run, but also get into the backfield to collapse the pocket.
New England - Jabrill Peppers, S, Michigan
Bill Belichick's ability to put people in position to succeed with a movable piece like Peppers is a scary thought. Few teams move players around as much as the Patriots, and few players can move around as well as Peppers. He's a boom or bust pick, but if he's going to boom, Bill Belichick is the man to make it happen.
NFL Draft | 2016 NFL Mock Drafts | Profiles | 2016 NFL Free Agents | NFL Forum | Contact
Copyright &copy 2016 FootballsFuture.com. Do not duplicate or redistribute an any form.
Privacy Policy