2017 NFL Mock Draft
By: Robert Davis | Updated: 1/25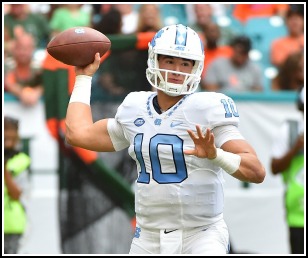 Cleveland - Myles Garrett, DE/OLB, Texas AM
Pairing Garrett with Jamie Collins would give the Browns two dynamic playmakers in their front seven.
San Francisco - Mitch Trubisky, QB, North Carolina
This team really could go a number of directions, but with Garrett gone, the most sense goes to the QB position. Trubisky isn't an elite prospect, but he is talented and despite just one season of starting experience, may be the most pro ready guy of the top guys at the position.
Chicago - Jonathan Allen, DL, Alabama
Allen would fit nicely up front for the Bears, who are assembling a very talented young front.
Jacksonville - Leonard Fournette, RB, LSU
Fournette is the type of back to build an offense around. His presence would take a lot of pressure off of Blake Bortles, possibly saving his career in Jacksonville.
Tennessee(from LAR) - Marshon Lattimore, CB, Ohio St.
Pass defense was a major problem for the Titans last year. Lattimore is a tad on the raw side, but he has all the tools to be a shutdown corner with some experience.
NY Jets - Deshaun Watson, QB, Clemson
The Jets have really struggled to find a long term answer at QB. They just took Christian Hackenburg in the second round last year, but he's clearly not ready to see the field, so they cannot enter the year without finding an answer at the position. Watson has his detractors, but he's talented, has a good head on his shoulders, and has played well in big games at the college level.
LA Chargers - Jamal Adams, S, LSU
Adams is a game changer at safety with his ability to lay the wood and make plays in coverage. The Chargers have missed that element since Eric Weddle departed two years ago.
Carolina - Ryan Ramczyk, OT, Wisconsin
Protecting Cam Newton has to be the teams biggest priority, even if they have to slightly reach in doing so. Ramczyk may not be seen as a reach if his athleticism on tape shows up in workouts. He's got all the talent to play on the left side at a very high level.
Cincinnati - Reuben Foster, LB, Alabama
Adding some speed and hitting ability at the linebacker position has been a need for years. It finally comes together for them with the Foster selection, who may be the best Alabama linebacker to come out in recent years.
Buffalo - Mike Williams, WR, Clemson
Sammy Watkins is a game breaker when he's healthy. The problem is, he's injured half the time. The Bills need a presence at the position when Watkins is not on the field, and Williams would provide that. He would also take a lot of pressure off of Watkins when they do play together.

New Orleans - Solomon Thomas, DE, Stanford
The Saints are still searching for pass rush help. While Thomas doesn't have a traditional end frame, he brings a lot of versatility to the position. He has a great first step, is powerful, and athletic. He can apply pressure off the edge, and should be able to move inside on third downs to provide interior pressure.
Cleveland(from Phi) - DeShone Kizer, QB, Notre Dame
The Browns are loaded with picks, and could be the team to convince the Patriots to trade Jimmy Garoppolo. Until that happens though, they are still in need of a long term answer at the QB spot. Kizer has as much upside as any passer in this draft. Jackson could do wonders with a player of his talent level and intelligence.
Arizona - Teez Tabor, CB, Florida
Although the secondary has two standouts, the unit as a whole needs some more help. Adding Tabor would give the Cards one of the best and most complete secondaries in the NFL. If Kizer falls to this spot, it would be tough for the Cards to pass on Carson Palmer's replacement.
Philadelphia(from Min) - Marlon Humphrey, CB, Alabama
Immediate help in the secondary is needed, and Humphrey has big time ability. He has the length, speed, toughness, and bloodlines to be a pro bowl corner in the NFL.
Indianapolis - Dalvin Cook, RB, Florida St.
Frank Gore has been steady, and he won't be around forever. Cook would bring a big play element to the running game, as well as some pass catching ability. He would be a tremendous weapon to add to Andrew Luck's arsenal.
Baltimore - Malik Hooker, S, Ohio St.
Hooker is a special safety in coverage. Going to the Ravens would bring about the obvious comparison to Ed Reed. His ability to make plays on the ball make that a justifiable comparison and is great value at this spot.
Washington - Malik McDowell, DT, Michigan St.
The Skins would love to add some talent to the defensive line early in this draft, and that's exactly what they do here. McDowell didn't put up big numbers, but his size, athleticism, and strength suggest better things will come in the NFL.
Tennessee - John Ross, WR, Washington
Ross would bring much needed speed and playmaking ability to the Titans offense. His ability to make big plays and stretch the field could open up the entire offense and help Marcus Mariota reach his full potential.
Tampa Bay - Corey Davis, WR, Western Michigan
Jameis Winston needs more weapons in the passing game, and Mike Evans needs some help. Davis brings good size and polish, and would be a great intermediate threat for Winston early on.
Denver - OJ Howard, TE, Alabama
The TE spot has lacked a consistent threat since Julius Thomas left for Jacksonville. Howard wasn't used a great deal in the passing game at Alabama, but when he was, he was a major weapon. His length and athleticism make him a tough matchup for anyone that has to guard him. For a young QB, that's a great weapon to have.
Detroit - Takk McKinley, DE, UCLA
McKinley has explosive speed off the edge. For a team needing to upgrade the pass rush, there isn't a better option available here.
Miami - Derek Barnett, DE, Tennessee
There are some glaring questions at DE for the Dolphins. There is no depth, Cameron isn't getting any younger, and Mario Williams was ineffective and could be cut. Barnett is not an explosive athlete, but he is a gifted pass rusher that can start from day one.
NY Giants - Zach Cunningham, LB, Vanderbilt
Cunningham is a sideline to sideline MLB, but his athleticism could allow him to play outside if needed. The Giants need some help in the unit, and his versatility would help get the best players on the field.
Oakland - Sidney Jones, CB, Washington
Jones is one of the better pure cover men available in this draft. Stronger receivers can give him trouble, but he'd pair up well with Sean Smith on the other side.
Houston - Jabrill Peppers, S/LB, Michigan
Peppers should blow up the combine, and could go much higher than this when all is said and done. If he is on the board, the Texans should make this pick quickly. His ability to move around and do so many things gives a defense a lot of versatility.
Seattle - Cam Robinson, OT, Alabama
The Seahawks have tried to plug guys in on the offensive line but it hasn't worked. Robinson is a big time talent that could play on either side of the line, giving Pete Carroll some versatility to find the right pieces to put on the field.
Kansas City - Forrest Lamp, OL, Western Kentucky
Lamp didn't play at a big school, but he's one of the better and more versatile linemen available this year. He's been a standout left tackle and has the movement skills to remain there, but questions about his length could move him inside. He'd play guard for the Chiefs, but gives them depth at tackle as well.
Dallas - Tim Williams, DE/LB, Alabama
Williams is one of the draft's better edge rushers. It might take some added weight to play with his hand on the ground exclusively, but the role would be the same: go get the quarterback.
Green Bay - Charles Harris, DE/OLB, Missouri
A number of pass rushers are hitting the free agent market for the Packers. Harris' quickness off the edge could help him provide an immediate impact.
Pittsburgh - Carl Lawson, DE/OLB, Auburn
Bud Dupree came on late, but they could still use help off the edge. Lawson is a difference maker as long as he stays healthy.
Atlanta - Taco Charlton, DE, Michigan
The pass rush came on in the last half of the season, but you can never have enough talented guys up front. Charlton has the length, athleticism and strength to be an all around weapon.
New England - Adoree' Jackson, CB, USC
How the Patriots prioritize their free agents will impact the draft quite a bit. They could need help on all levels of the defense and the offensive line, but they go with best player available here in Jackson. Logan Ryan is a free agent, and Malcolm Butler could be unrestricted next year. Bill Belichick loves versatility and Adoree' could play in all three phases and make an impact.
NFL Draft | 2016 NFL Mock Drafts | Profiles | 2016 NFL Free Agents | NFL Forum | Contact
Copyright &copy 2016 FootballsFuture.com. Do not duplicate or redistribute an any form.
Privacy Policy