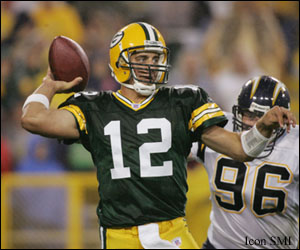 The NFL Network's Top 100 as voted by players usually unveils itself to staunch criticism from fans. While players have first-hand experience facing and playing with their peers and are able to recognize film and technique at their position better than any regular fan, they lack the broad-based perspective and the in-depth metrics that come along with being a super-fan. Typically placing more emphasis on their division and conference as well and reputation around the league, it's interesting to note the difference in results.
Over the past several weeks, 24 of these so-called "super-fans," from FootballsFuture voted on a top 100 of their own-in installments of 20 at a time. The results from the first 20 were crunched, returned to the panel, where they would identify their best 20 omitted from that list, after which numbers would be crunched again, and so on and so forth.
31 of the 32 NFL teams had a player recognized by "the panel," as a top 100 player around the league. Rankings were not just based off of the 2011 season and they were not entirely based off projections for the 2012 season. This list takes into account a player's career, but most importantly ranks players based off of where they were to end the 2011 season and enter the 2012 season. We asked our panel to mostly disregard recent, offseason player injuries and rank the player as if they were on the field with the exception of career-threatening injuries. Finally, collectively as a group, it was initially decided to leave special teams players off of the list due to the inconsistent nature of their rankings from voter to voter.
100. Jason Babin [DE, Philadelphia Eagles]
Presented by: RandyMossIsBoss
In a rough start to his career with some careening around the league, Babin compiled just 20 sacks in 6 years. But ever since playing under Jim Washburn in Philadelphia, Jason Babin has been one of the NFL's premier pass rushers. With 18 sacks in 2011 (3rd most) and 30.5 over the past two seasons (2nd most), Babin is a feared name amongst offensive tackles. The Eagles wide 9 "scheme" allows Babin to play to his strengths, which are to just to pin his ears back and go after the quarterback with everything he's got. He can run around you or straight bull rush you, making him very hard to block and a dangerous defender at one of the most important aspects of the game.
99. Brent Grimes [CB, Atlanta Falcons]
Presented by: DrawABlank
3 years ago, Brent Grimes was an UDFA fighting for a spot; but now he's a star on the Falcons' defense. He's incredibly acrobatic with the ball skills to make QBs think twice with the speed and agility to shadow receivers. He excels in zone and off-man, and sticks close enough to prevent easy completions in press where he can be outmuscled due to size. In run support, he's willing, though not exceptional. With only a single interception to his credit last year, he dropped a couple of easy picks, which would have boosted his total. Between his outstanding charting metrics over several seasons (ranked 2nd and 3rd Adjusted YPA by FootballOutsiders in '10 and '11 in) with highlight reel plays to match, he's well worthy of this spot.
98. Daryl Smith [LB, Jacksonville Jaguars]
Presented by: DrawABlank
Daryl Smith – the Rorschach test of serious NFL fandom. If you hear someone clamoring about his impact at an unglamorous position, you know you're dealing with a knowledgeable observer of the game, or a Jaguars fan, but whose actually seen one of them anyway? All joking aside, he finished in the top 10 in run stops last year, was effective in coverage on tight ends and running backs and is also a very good blitzer. But what stands out most, are his superb football instincts and efficient footwork, rarely taking a false step. The acclaim is well deserved, and while at 4-3 OLB he will always struggle to get the individual baubles in Pro Bowl and All-Pro appearances, his play has earned him a spot among the league's best players here.
97. Kam Chancellor [S, Seattle Seahawks]
Presented by: SaveourSonics
After playing primarily on special teams as a rookie, Chancellor learned a thing or two behind now retired veteran safety Lawyer Milloy. He exploded onto the scene in his sophomore year to have one of the best seasons at strong safety last year. He'll have to repeat his performance to be mentioned among the Troy Polamalu's of the league, but Chancellor has thus far shown the ability to be a devastating hitter and ball-hawk, coming away with 7 turnovers in his first year as a starter.
96. Jay Cutler [QB, Chicago Bears]
Presented by: Superman(DH23)
In January 2010, Jay Cutler was unable to complete the NFCCG against the rival Packers with a grade 3 MCL sprain. The Twitter-verse was on fire questioning Cutler's toughness. But after having been sacked more any QB in the NFL in the past two years, Cutler has been nothing short of resilient. It wasn't until Week 5 last year when the Bears traveled to Detroit for their first Monday Night Football game in 20 years. Jay was hit, battered, and sacked-and kept getting back up. He Completing nearly 74% of his passes that day, the Bears stayed alive and perceptions around the league started changing. With perhaps the strongest arm in the league and a can't-be-stopped attitude, Cutler has brought potential to a Bears' offense that fans couldn't have dreamed off the last decade. In 2012, he finally has some talent at receiver to show them a level of quarterbacking they haven't seen in several decades.
95. Champ Bailey [CB, Denver Broncos]

Presented by: SaveourSonics
Champ Bailey may not be the player we are used to seeing from just a few short years ago, but he is still among the most respected players at his position and was a leader on a surprisingly effective Broncos defense in 2011. Bailey is a willing defender against the run, but clearly he known best for his lockdown ability as a #1 CB. Regression has set in for this long-time great, but even with age Bailey's instinctual style of play reigns supreme over many of his counterparts. More often than not, if Bailey is going to be beat, it's an injury or lack of elite recovery speed that may do it.
94. Michael Vick [QB, Philadelphia Eagles]
Presented by: Superman(DH23)
Mike Vick has been one of the most dangerous players with the ball in his hands since he entered the NFL in 2000. In 2010, after a 2 year absence from the NFL, Mike Vick revitalized his career under the tutelage of QB guru Andy Reid. Today Vick is part of perhaps the most elusive backfield in Philly. In his career, Vick has many times found himself needing to escape the pocket to make a play. Previously looking to quickly tuck it and run, Vick is now looking to pass when he breaks the pocket making his game even more dangerous. Still, when he finds open field, he's still as explosive, elusive, and dangerous. Accounting for nearly 4000 yards of offense, Vick still failed to stay healthy enough to start 16 games in 2011, as he has for all but one season in his career. Maybe it's time to start sliding more.
93. Alex Mack [C, Cleveland Browns]
Presented by: SaveourSonics
Alex Mack is one of the better kept secrets in the league considering his consistent play at a center position that is truly void of depth in today's NFL. Mack is a great technician as a pass protector, allowing the fewest amount of sacks at his position since entering the league. He lacks the power of the top-tier centers in the run game, but at such a young age he has been developing in this area and is already one of the leaders of that Browns locker room. Like most centers, Mack should only improve with age.
92. Marshal Yanda [OG, Baltimore Ravens]
Presented by: RavensTillIDie; GaTechRavens
There are certain stereotypes of an Iowa offensive lineman. it's not about name recognition for Yanda, in that regard it probably didn't hurt making the first Pro Bowl for the first time this past year. Is he tough? Ask Ray Rice when, in Week 17 and with a first round bye on the line, Yanda returned to the field following a broken rib and paved the way for Rice's most dominant performance of the year. Is he resilient? Ask John Harbaugh in 2009, when Yanda returned from a torn ACL and played the most dominant ball of his career up to that point. Is he willing to do anything to win? Ask anyone on the 2010 Ravens, when the tackle position became such an urgent problem that Yanda shifted over to a position he wasn't as comfortable with and gave it his all (and played well, too). While he may receive little notoriety outside of Baltimore, Ravens fans are sure glad to know he'll continue be a fixture on their line.
91. Dwayne Bowe [WR, Kansas City Chiefs]
Presented by: DrawABlank
Dwayne Bowe can't be entirely blamed for occasionally feeling a little sorry for himself. He's one of two receivers on the list without a great QB, and doesn't have Fitzgerald's $120m contract to ease the pain. He's often slammed for inconsistent hands, but some of the best receivers have dealt with that issue with Terrell Owens in the past and Roddy White and Brandon Marshall today. Despite back-to-back 1,150 yard seasons and an All-Pro nod, he still hasn't got a long term deal. He has flaws–his hands, the lack of tremendously efficient numbers, and a big ego, at times; but Dwayne Bowe makes the bottom of the list here due to his physical gifts, few limitations in his game, and productivity as the only threatening receiver on his team.
90. Darren Sproles [RB, New Orleans Saints]
Presented by: DrawABlank
Most 8 year veterans with 8 career starts are journeymen. Most 5'6" guys play soccer. But if you break the all-purpose yardage record, you aren't "most people." One of the most exciting players in the league with the ball in his hands (rushing, receiving or returning), Sproles is a threat to go the distance any play while breaking ankles with a sudden juke, bouncing off a tackle with a low center of gravity, and the speed to cap it off. Though he was very good in San Diego, Sproles' value has been further accentuated and better utilized in the Saints' system where he's become one of the most dangerous weapons in the league because of his supreme versatility to do everything from out wide to between the tackles. He may be a specialist of sorts, but he's the best at what he does.
89. Cortland Finnegan [CB, St. Louis Rams]
Presented by: DrawABlank
Finnegan has always been a undersized ball hawk with endless aggression. He's produced excellent seasons on the outside (56.9 and 61.6 QBR when thrown at in 2008 and 2009) and his hustle and desire makes him strong against the run (10+ stops per FO in both 2010 and 2011). But in 2011, he showed the versatility to cover the slot in nickel as well as his outside duties while remaining a top 3 corner in average pass yardage against. While he's not exceptional at any one skill (compared with some of the other truly elites), his versatility allows him to excel in any situation against any play from run blitzing to rushing the passer, or matching up with receivers as diverse as Andre Johnson and Lance Moore.
88. Darren McFadden [RB, Oakland Raiders]
Presented by: RaisinBran
McFadden is arguably the most talented, versatile back in the league. He has the perfect combination of 4.3 speed, size, and power, with the potential to take it to the house on any given play. McFadden was leading the league in rushing through week 6 in 2011 until a fluke foot injury occurred. Averaging over 10 yards per catch for his career and having taken many dump-offs the distance with patience and burst, he is one of the best receiving backs in the game. Solid in pass protection as well with some devastating blows, McFadden can really do it, with the one exception of staying healthy. If he was ever able to keep it together for 16 games, or consecutive 16-game seasons, McFadden could quickly become the best back in the game.
87. Brian Urlacher [MLB, Chicago Bears]
Presented by: Superman(DH23)
In 2009, nothing went Brian Urlacher's way. He suffered a season ending injury in the first game of the season against the hated rival, the Packers. Forced to sit on the sidelines and watch as the Bears lost LB after LB to injury and struggled to a 7-9 season, he came back with a vengeance in 2010. With more splash plays than any other ILB in the NFL and arguably the best year of his career, he returned to dominance as the Bears reach the NFC Championship game. 2011 was much of the same as Urlacher had 102 total tackles, 7 passes defended, 3 interceptions, and 8 stuffs. Urlacher may be getting older as we all do, but like a fine wine he just keeps getting better with age.
86. Steven Jackson [RB, St. Louis Rams]

Presented by: SaveourSonics
Many people were expecting a regression from Steven Jackson this past season considering his supporting cast, his age, and his recent injury history. Jackson continued trucking (defenders) along, however, recording his 7th straight 1,000 yard season on the ground and proving that he's still one of the more dangerous receiving backs in the league when he gets in the open field. Jackson will need help from those around him in St. Louis to maintain his high level of play, but he should go down as one of the better backs of this decade once it's all said and done.
85. Logan Mankins [OG, New England Patriots]
Presented by: goldfishwars
Logan Mankins is one of the strongest, meanest guards in the league. A devastating run blocker on the run as a puller for the Pats offense, he has been able to elevate running backs' careers to above their talent level. As a mainstay on the Patriots' line and protecting one of the league's best to ever play, he has also become known as one of the best pass protectors at his position. Back in 2005, Bill Belichick and Scott Pioli took a shot on a guard out of Fresno State that very few had graded as a first round prospect. Many years later, Mankins has proven to be a perennial pro-bowler a lynchpin on the interior of one of the best offenses in the league over that timespan.
84. Brandon Marshall [DT, Denver Broncos]
Presented by: Superman(DH23)
On a per-snap basis, no defensive tackle was more effective as a pass rusher than Geno Atkins. With a deadly first step, the former mid-round pick from Georgia destroyed interior lines with a variety of moves and stunts to keep them off-balance-and quarterbacks behind them paid the price. Though undersized at 6'1, 300 pounds, Atkins plays with enough power and leverage to hold the point of attack and with enough quickness to make even getting a second blocker to him difficult. With the freedom of a two-way go on pass rushing opportunities, Atkins could string together a season like last, which would make him one of the most feared pass rushers in the entire game.
83. Geno Atkins [DT, Cincinnati Bengals]
Presented by: RashaanSalaami
On a per-snap basis, no defensive tackle was more effective as a pass rusher than Geno Atkins. With a deadly first step, the former mid-round pick from Georgia destroyed interior lines with a variety of moves and stunts to keep them off-balance-and quarterbacks behind them paid the price. Though undersized at 6'1, 300 pounds, Atkins plays with enough power and leverage to hold the point of attack and with enough quickness to make even getting a second blocker to him difficult. With the freedom of a two-way go on pass rushing opportunities, Atkins could string together a season like last, which would make him one of the most feared pass rushers in the entire game.
82. Brian Orakpo [DE/OLB, Washington Redskins]
Presented by: SaveourSonics
Brian Orakpo is muddled somewhere in the 2nd tier of 3-4 rush LBs, but for consistencies sake he should be mentioned more with the top players at his position. Orakpo has recorded nearly 30 sacks in his first 3 seasons in the NFL and has missed only a single game in his career. Orakpo is known for great strength at the point of attack which gives him a distinct advantage when fatigue starts to set in for his opposition. Orakpo's biggest weakness at this point of his career may be his inconsistency, as he can disappear for games at a time, but he is still considered to be one of the more relentless pass rushers in the game today.
81. Andrew Whitworth [OT, Cincinnati Bengals]
Presented by: RashaanSalaami
There isn't anything sexy in Andrew Whitworth's game and he doesn't make the position seem like an art as say a Joe Thomas does. But there have been very few linemen who have been more effective than Whitworth over the past two years, where he had reasonable claims to All-Pro teams, not that he earned so much as a Pro Bowl. With good size and strength, Whitworth can control ends with less than elite speed with regularity. Among left tackles, Whitworth is one of the best run blockers in the game and plays with a fiery attitude to help the Bengals in every way possible.
80. Lance Briggs [OLB, Chicago Bears]
Presented by: Superman(DH23)
In the early part of his career Lance Briggs was widely considered the unheralded player next to the perennial pro bowler Brian Urlacher. Those days are long gone as Briggs as now widely considered the best WLB in the NFL. Briggs has now appeared on 7 straight pro bowl teams, a feat occurring only 10 times in the charter franchise's history. Briggs contributed 105 tackles, 4 PDs, 1 INT, and 10 stuffs in the 2011 season, helping the Bears to the #5 run defense and run a transforming Tampa 2 defense to perfection.
79. Calais Campbell [DE, Arizona Cardinals]
Presented by: SaveourSonics
Calais Campbell has not garnered all of the respect he deserves at this point of his career considering he has consistently played like a top 5 3-4 defensive end for the past several seasons-and improved each year. With increasing numbers in tackles, sacks, and stuffs every single season he's been in the league, Campbell has become an absolute force for the Cardinals. He brings an imposing 6'8" frame that places him in the top tier in passes defended for a defensive lineman. Playing stout against the run and pass, he is easily one of the most well-rounded 3-4 defensive ends in the league.
78. Antonio Gates [TE, San Diego Chargers]
Presented by: DrawABlank
In 2010, after 10 games he was on pace for 1250 yards and 16 TD's, as the sole focus of the defensive attention. And then came the plantar fasciitis which has hampered him since. When healthy, he's still the model for all the basketball-style TE's with exceptional hands, an amazing catch radius and vertical speed and draws so much defensive attention that it forces 1on1's down the sidelines, which Rivers feasts on. Now, he's never been an exceptional blocker and will slowly start to lose athletic ability form here on out, but even on one leg, he was still 5th in yards/game and 3rd in TD/game last year. He'll still have it with plenty of savvy. When Jimmy Graham goes to cash his next contract, he should thank this guy for blazing the trail.
77. Cam Newton [QB, Carolina Panthers]
Presented by: DaRealdeal
There aren't enough superlatives to describe Cam Newton and his rookie season. It was remarkable. Having being labeled a bust before he even put on a Panthers jersey, Cam is making a lot of people look silly now. The undisputed rookie of the year set so many rookie passing records it's dizzying. He has prototypical size, one of the biggest arms in the league and is a tank of a freak athlete that ran for the most rushing touchdowns in a single season by any quarterback. With solid mechanics and the ability to make a wide array of throws, Newton is a special athlete, player and quarterback with sky-high potential.
76. Jamaal Charles [RB, Kansas City Chiefs]
Presented by: RaisinBran
Jamaal Charles is one of the quickest and most elusive players in the game today. He has elite vision and cutback ability leading to a career 6.1 rushing average. Until his unfortunate torn ACL last year, all signs pointed toward Charles being one of the most electric, efficient and dependable backs in the game. Despite missing all of last year with the injury, expect Charles to return to form and continue his assault on opposing defenses. If he is fully recovered, he will again serve as the focal point of the Chiefs' attack and remain one of the few weapons at the position more game-planned for than the passing game.
75. Jason Witten [TE, Dallas Cowboys]
Presented by: MaddHatter
Look in any dictionary and beside the definition of consistent is a picture of Jason Witten. He isn't the fastest TE, he's not the most athletic TE, he's not the best blocking TE, but he is one of the most dependable and well-rounded TE's to ever play. Over his career he's averaged 77 receptions and 880yds a season and 2012 was no different where he slightly exceeded both of those marks. His value is immeasurable, as he takes on pass rushers off the edge 1-on-1, drives OLB's down field on running plays, and always finds the opening in a zone, making difficult catches underneath. Having just turned 30, it'll be interesting to see how the blue-collar work horse plays going forward, but a broken jaw, broken ribs, and busted knees/ankles haven't slowed him don't expect the lacerated spleen he's suffered in the preseason to bring his game to an immediate halt.
74. Duane Brown [OT, Houston Texans]
Presented by: SaveourSonics
After struggling some in his first few years in the league, Duane Brown really made a name for himself this past season as perhaps the Texans most dominant overall lineman. The opposition failed to record a sack against Brown for the entire 2011 season which really opened the public's eye to just how well-rounded a player he is. The Texans are known for being a dominant running team, and Brown only adds to that with his nimble feet and great technique in Houston's zone blocking system.
73. Brandon Flowers [CB, Kansas City Chiefs]
Presented by: RashaanSalaami
Flowers is a unique corner in today's "size matters" league. At only 5'9, he has put together many seasons of top-5 corner play before suffering a setback last year, potentially due to a an early season high ankle sprain. When he's healthy and at the top of his game, few corners play the position more physical and forcing their match-up to play their game. He shadows receivers well down the field and has the instincts and ball skills to break up passes in his direction. In '09 & '10 seasons combined, Brandon Flowers allowed just a clip over 50% of passes to be completed against him at a rate of less than 6.4 yards per attempt, while the Chiefs ranked 2nd over that period in defending opponents' top receivers allowing 6.3 YPA.
72. Chris Myers [C, Houston Texans]
Presented by: RashaanSalaami
Fantasy owners over the past two years have found tremendous value and now a safe haven in running back Foster. Behind the ideal one-cut back, is the ideal zone-blocking center and the glue that held the league's best run-blocking line together. With below average size and average strength for the position, Myers depends upon his athleticism, intelligence and technique to get the job done. With consistency in footwork, pad level, and hand use, Chris Myers has led an interior offensive line that finished 3rd and 1st in 2011 and 2010, respectively in run blocking up the middle according to FootballOutsiders.
71. Derrick Johnson [ILB, Kansas City Chiefs]
Presented by: DrawABlank
While it seemed a strange decision when Todd Haley benched Johnson back in 2009, it may have been the making of him. Playing inside backer in the 34, he became excelled as a playmaker in 2011 after a solid 2010 season, making numerous splash plays (8 TFL, 9 PD, 2 sacks, 2 INTs) in addition to his 104 solo tackles. Furthermore, he was 3rd in the league in defeats (plays that stop a drive or cause a loss) behind only Jared Allen and JPP. Achieving a 1st team All-Pro selection as an ILB behind a far from stellar defensive line takes serious skill. And with his fluid athleticism in coverage, strength at the point of attack, vocal leadership and hard-nosed attitude, he more than fits the bill of a top 100 player.
70. AJ Green [WR, Cincinnati Bengals]
Presented by: DrawABlank
With 1,057 receiving yards on 16.3 per catch, 53 more on the ground, and an additional 152 yards in laundry against him with 7 TDs in 15 games, AJ Green garnered tremendous respect from his peers, fans, and analysts. With a 2nd round rookie at QB, a solid, but unspectacular ground game, and no other real receiving threats to speak of, Green was the focus of defenses. You read all that and think "how good must this guy be?" Then you watch a game, and he's better. As fans, we like to compare players, and often we get carried away. But sometimes you have to go with your instincts – he's a slightly slower Randy Moss, without the baggage. And even in a league filled with promising young wideouts, this guy is a frontrunner to be among the top of the league's elites.
69. Chris Johnson [RB, Tennessee Titans]
Presented by: SaveourSonics
After struggling to really get his feet underneath him after a lengthy holdout to start the 2011 season, Chris Johnson finds himself further down this list than many might have expected. Many linger on the belief that Johnson can bounce back to his 2009 campaign where he set a league record for most yards from scrimmage. Johnson is still considered to be one of the most explosive players in the league, in spite of the fact that his rushing totals have dipped in both of the past two years. Johnson will have to prove in 2012 that he can still be among the scariest players in the league if he wants to once again ascend to a top 50 player. Though he is often considered a "speed back," he has missed only a single game in his 4-year career with the Titans.
68. Mario Williams [DE, Buffalo Bills]
Presented by: goldfishwars
It seems odd that Mario Williams is only 27, having been in the league since 2006 where he was taken first overall by the Texans. At 6'6 and 288, he's an imposing physical threat at defensive end where he has racked up 53 sacks in 6 seasons, despite missing 14 games through injury over the past two years. Last year he had 5 sacks in 5 games – despite lining up in an unfamiliar position (OLB). The Bills will be hoping he returns to full healthy where he played four straight seasons without missing a game because at that level, he's the focal point of an offensive line.
67. Michael Roos [OT, Tennessee Titans]
Presented by: SaveourSonics
Michael Roos has been a very solid LT for the Titans for several years now, always being mentioned among the best pass protectors in the league. He's not the most powerful blindside tackle, which leaves him prone to mistakes in run blocking, but few in the league are as good as he in keeping the QBs jersey clean. Roos and right tackle David Stewart combine to form one of the league's best pass-protecting tackle duo, though both still continue to fly under the radar of many fans.
66. Eric Weddle [S, San Diego Chargers]
Presented by: SaveourSonics
Eric Weddle finally gets a spot on our list after being one of the more underrated figures in today's league. Weddle may be the most consistent safety in the NFL, rarely caught out of position and rarely missing open field tackles. His 7 interceptions in 2011 were among the league leaders and prove something most in-depth fans already knew, that Weddle has some of the best instincts the position has to offer. In a league where multi-dimensional safeties are becoming a thing of the past, Weddle is proof that you can still be an elite centerfielder and in the box player.
65. Cameron Wake [DE/OLB, Miami Dolphins]
Presented by: goldfishwars
Cameron Wake has taken an unusual route from undrafted free agent to playing in the CFL and then emerging as one of the league's most explosive pass-rushers since returning to the NFL with the Dolphins in 2009. Whilst his sack total fell from 14 to 8.5 last year, he drew a league high 13 holding penalties – showing how weary offensive tackles have become in dealing with him. He's clocked up 28 sacks in those three seasons and next year he'll be returning to the DE spot that made him such a coveted prospect during his time in Canada.
64. Joe Haden [CB, Cleveland Browns]
Presented by: SaveourSonics
Joe Haden has proven to be the perfect AFC North cornerback, playing with great physicality for the Browns and really bullying receivers at the line of scrimmage. He wasn't the ballhawk that Cleveland was hoping he would be in his sophomore season, but Haden is very consistent in man coverage and compliments that with being very stingy against the run. He and Sheldon Brown make up an underrated CB duo in the league, despite the fact that they have been among the toughest to throw against since their arrival. Getting tossed from a practice this offseason for playing "too physically," big things are expected from Haden.
63. Jon Beason [LB, Carolina Panthers]
Presented by: DaRealdeal
It's a testament to his talent that he was able to make this list despite not even making it through one full game all last season. Jon Beason is an athletic backer with sharp instincts. His sideline-to-sideline speed has allowed him to rack up tackles over the years and his fiery attitude is infectious. He's a team leader, and quite honestly, any defensive coordinator would love to have him in the middle of their defense. With this Achilles injury seemingly behind him he looks poised to comeback in a big way.
62. JJ Watt [DE, Houston Texans]
Presented by: EliteTexan80
In all of my years of watching this sport, I've only seen a few guys like JJ Watt; I have seen guys with a scary athletic skillset, guys who are freaks of nature with an impressive set of triangle numbers to go along with unusual size. I have also seen guys with an impeccable work ethic, guys who are going to go at 500 miles per hour, no matter what you ask of them. I have also seen guys who were very methodical, like a surgeon working open heart surgery - precise and deftly capable of what is being asked of them. I have seen guys who will cut their own arms and legs off if it means that the team would benefit. It's rare that I see ALL of these traits present in one man.
61. Hakeem Nicks [WR, New York Giants]
Presented by: SaveourSonics
The only thing holding Hakeem Nicks up at this point of his career is durability. He has yet to play a complete 16 game season in his brief 3 year career as a Giant, but in spite of this he has now recorded two straight 1,000+ yard receiving seasons with 18 total TDs in that span. Nicks is known for his huge hands and the ability to simply body corners for position and out-muscle his opposition for the football. Nicks is a strong receiver after the catch and is considered to be one of the more well-rounded players at his position with his ability to catch passes all of the field.
60. Earl Thomas [S, Seattle Seahawks]
Presented by: SaveourSonics
Entering only his 3rd year in the league, Earl Thomas has already shown the abilities that warrant him not only being among the top safeties in the NFL, but among the best players in the league. Thomas is an rare athlete, with the ability to take away the deep third of the field with his speed and instincts, come up against the run with his toughness, and even play as a nickel corner with impressive man coverage skills. Thomas is already a vocal leader on a promising Seattle defense and should only improve from here.
59. Mike Wallace [WR, Pittsburgh Steelers]
Presented by: kethnaab
The 3rd round phenom (and steal of the 2009 NFL draft) has averaged about 1070 yards and 8 TDs per season over his first 3, at an astounding 18.7 YPC clip. 3 games into his rookie season, he came into prominence during a Steelers' loss to Cincy, when he put up 7 receptions and 102 receiving yards. He continued to show flashes of ability and his breakneck speed throughout 2010 and into 2011, breaking 100 yards in 6 consecutive games and 9 of 12 games. Wallace's speed makes him nearly uncoverable in single coverage and requiring careful attention, discipline, and sound angles over the top.
58. Justin Tuck [DE/DT, New York Giants]
Presented by: RashaanSalaami
In 2007, Justin Tuck came into his own with his first 10-sack season after recording only one in his first 20 games. As the Giants went on to beat an undefeated Patriots in the Super Bowl, the league started noticing Tuck and the versatility he provided the Giants. With a truly elite combination of size, strength, and athleticism, Tuck has proven to be a tough match-up for any lineman-tackle or guard; mauler or finesse. Leaving an impact in both the run and pass game and as a key member of a 2x Super Bowl champion, Justin Tuck has earned the respect of his peers, the media, and this panel.
57. Charles Woodson [CB/S, Green Bay Packers]
Presented by: RashaanSalaami
After finding few teams interested in playing Woodson at cornerback in 2005 when he was a free agent, Woodson came up north to Green Bay, one of few teams willing to do that. Since then, the Packers have played him at cornerback, but have also put in the slot, at linebacker, and at safety. Into his 30's, he also returned punts for a short while. Now the Packers have moved him to safety in the base defense and Woodson is plenty happy with his role. After winning a Super Bowl in 2010 and taking a greater leadership position on the defense throughout the years, Woodson has been recognized for his versatility with a DPOY award and, even with age, should remain amongst the most versatile players in the league in 2012.
56. Chris Long [DE, St. Louis Rams]
Presented by: SaveourSonics
Chris Long was labeled as having a very limited ceiling coming out of Virginia due to his perceived lack of athleticism and reliance on a high motor. But Long has silenced his critics by improving every single season since his 2008 rookie campaign, going from 4 sacks in '08 to 13 sacks in his most recent 2011 showing. Long is now viewed as one of the more tenacious 4-3 defensive ends in the league and comes equipped with a strong presence against the run to give him one of the more well-rounded games at the position.
55. Ndamukong Suh [DT, Detroit Lions]
Presented by: SaveourSonics
After an impressive rookie season where Suh was among the league leaders with 66 tackles and 10 sacks, Suh showed some regression in 2011, watching all of his official numbers fall. Clearly his ranking on this list reflects the belief of the panel that Suh is still the player we saw in 2010, performing like one of the top interior pass rushers in the league. Looking deeper than the official numbers, Suh was still an effective pass rusher adding an additional 7 hits and 24 hurries. Further, he improved ever so slightly as a run defender, one of his perceived weaknesses from an All-Pro rookie year. There's improvement to be made, but Suh's work ethic and talent should be more than enough to get him to the special tier of players.
54. Vernon Davis [TE, San Francisco 49ers]
Presented by: DrawABlank
Mike Singletary's tenure as a Head Coach was more show than production, but he sure made a difference with Vernon Davis. Since the infamous incident and rant, Davis averages 900 yards and 9 TD's a year with Alex Smith at quarterback. He's arguably the only offensive weapon that can challenge Calvin Johnson's raw athleticism-with a 4.38 40 at 253lbs and a 42" vertical, he makes full utilization of abilities, getting open with speed, using his size to shield defenders from the ball, and high-pointing contested balls over his head. Someone must've also forgotten to tell him that mismatch TE's aren't supposed to be blockers too. In the 2012 playoffs, he proved he steps up when it counts – 292 yards and 4 TD's in 2 games, including "The Catch III" to beat the Saints as the league's elite typically do.
53. Ryan Kalil [C, Carolina Panthers]
Presented by: DaRealdeal
Ryan Kalil has been a model of consistency. Coming off of his 3rd straight Pro Bowl appearance, and his first All-Pro nod, Kalil is considered to be one of the best centers in the game and the best in the NFC. He is a tremendous run blocker and athletic enough to regularly reach the second level of the defense. His signal calling and his ability to recognize the blitz surely helped Cam Newton through his rookie campaign. Even as the highest paid center in the league, it's hard to dispute his tremendous value to the maturing Panthers' offense.
52. Steve Smith [WR, Carolina Panthers]
Presented by: DaRealdeal
Inconsistent quarterback play slowed him down from 2009-2010, but when Cam Newton stepped onto the field this past season Steve Smith showed that he is still one of the most dangerous weapons in the NFL. Smith is one of the best vertical threats in the league, only trailing Calvin Johnson for the most 20+ yard catches in 2011. He has incredible leaping ability for a shorter receiver. This ability combined with his junkyard dog mentality on the field has allowed him to return to a tier among the game's elites.
51. Wes Welker [WR, New England Patriots]
Presented by: goldfishwars
2011 was Welker Welker's most productive season yet, with career highs in receiving yards (1,569) and TD's (9). Putting his contractual disagreements, hair transplant and dropped Superbowl pass aside – Welker has consensus top chain-moving receiver in the game. Catching 122 passes last season, that's the 4th time he's surpassed the 100 reception mark in a season. The Patriots have utilized his exceptional short area quickness and toughness to full effect as he's become the staple of the high-powered Patriots offense.
50. Brian Cushing [LB, Houston Texans]
Presented by: EliteTexan80
You see a different energy from Cushing-he's a guy with some imposing size and strength, but his quickness and agility are otherworldly. With unreal reaction time to the movement of the ball and understanding where the play is going, Cushing is quick to diagnose the exploitable points of an offense as he makes his way into the play. For all of the physical attributes that Cushing brings to the field, he's scary smart and really has a high football IQ. It's one of the reasons that the coaches are not afraid to move him around to different spots so frequently. Rarely out of position and rarely fooled by trick plays, Cushing has a brain that was made for football. Add to that the physical gifts he has, and there's a fine player, a warrior in the trenches, and a hawk in coverage.
49. Tony Romo [QB, Dallas Cowboys]
Presented by: MaddHatter
The kid from Burlington, WI has come a long ways. With baby steps-from D-1AA to UDFA to 3rd string QB to QB1-Romo has taken a faltering team to the playoffs for the first time in over a decade and kept them competitive ever since. Romo has been a statistical juggernaut, and currently ranks 2nd all-time in Passer Rating and 4th all-time in YPA. Coming off his best season to date despite suffering broken ribs and a punctured lung in Week 2, Tony Romo went on to throw for over 4,000 yards and maintained a 3:1 TD:INT rate while accounting for over 80% of his teams TD's (highest in the NFL). At 32 years old, it sure seems that Romo is just hitting his prime, but the Cowboys must better protect Romo to help counterbalance the toll Romo puts on his own body if they want him here for long.
48. Matt Forte [RB, Chicago Bears]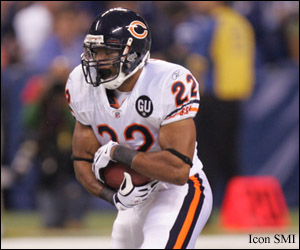 Presented by: Superman(DH23)
Prior to 2011, if you asked most casual fans how good Matt Forte was you often heard the same response: good, complete back, nothing special about him. All that changed in just 1 game of the 2011 season. Forte burst into the year compiling 158 YFS (yards from scrimmage) and never looked back. He went over 150 YFS in a game 6 times in 2011, and had an astounding 228 against the Panthers in week 4. At the start of week 13 Forte was the league's leading rusher with 985 yards and1485 YFSs, but after his 5th carry of his 12th game, Forte's breakout year was over. With well over 4 games to go Forte would finish as the #8 rusher, and #6 in YFS and his extraordinary talent was hardly questioned again.a
47. Ray Lewis [MLB, Baltimore Ravens]
Presented by: RavensTillIDie; GaTechRavens
The greatest middle linebacker in the history of the game? Over the past decade or so, Ray Lewis has gone from villain to the lovable elder statesman of the NFL. Written off as far back as seven years ago, Lewis' resurgence and unprecedented longevity is a testament to his true greatness. Though his numbers did drop some in 2011, they were still among league's better ones. It's hard to quantify the value Lewis brings to the Ravens, but as fans of the game, let's enjoy what Mr. Lewis has to offer because we could be waiting an eternity before seeing another like him again. From Darren Sproles to Dustin Keller, today's generation of NFL players is not immune to receiving the occasional blast from the past.
46. Von Miller [OLB, Denver Broncos]
Presented by: SaveourSonics
Von Miller was considered a questionable selection for a 4-3 team that didn't seem to have a fit for the Texas A&M 3-4 OLB. But Miller came in and really made the position his own, recording a ridiculous 11.5 sacks, 19 hits, and 17 hurries with only a broken hand to slow him down. Miller was surprisingly effective against the run year one, but his calling card was obviously in his ability to get to the QB. Though Miller is not a defensive end, he and Elvis Dumervil will look to form the best edge duo in 2012, with certainly no lack of talent or speed to get there.
45. Greg Jennings [WR, Green Bay Packers]
Presented by: RashaanSalaami
Greg Jennings is arguably the league's best technician at the receiver position. Working the X, Y, and Z positions, Jennings is capable of running every route in the book, which makes him an impossibly tough opponent to defend. It's difficult to get a one-up on him in the film room in the week and team's have struggled to keep "their guy" on him simply because he can play more positions than most corners can defend. Averaging over 65 receptions, 1000 yards, and 8 touchdowns per season for his career, Jennings has become the model for consistency up north. Greg Jennings lives by the motto "Be great," and with a tenacity and a tremendous work ethic, he has done just that for the Packers.
44. Tamba Hali [OLB, Kansas City Chiefs]
Presented by: SaveourSonics
It has taken some time for Hali to get the recognition that he deserves as one of the game's best 3-4 edge rushers. He is often the forgotten man on a defense with Derrick Johnson, Eric Berry, and Brandon Flowers, but after recording 35 sacks in the past 3 seasons, the panel has decided that Hali prevails as the best of the Kansas City defense. Though he took a year to get into high gear, Hali has been the only consistent Chiefs pass rusher since Jared Allen was traded to Minnesota, putting a lot of offensive attention on him. In spite of this, he has still progressed the past three seasons.
43. Roddy White [WR, Atlanta Falcons]
Presented by: DrawABlank
Since 2008, Roddy White is league's leading receiver in yards and 3rd in touchdowns behind Calvin and Fitz. He routinely generates superb separation even as the focus of defensive gameplans. White runs short and intermediate patterns as well as anyone in the game, and still has more than enough speed to threaten defenses vertically. His strength and leaping ability make him a force in the red-zone despite average height. Playing through nagging injuries, his toughness isn't a question and has helped him become a fan favorite, regardless of the occasional outburst on Twitter. Only his inconsistent hands and lack of otherworldly physical tools keep him below the Johnsons and Fitzgerald in the receiving pantheon.
42. Matthew Stafford [QB, Detroit Lions]
Presented by: DrawABlank
You expect certain qualities from a quarterback at #1 overall – an elite arm, decent mobility and the ability to make plays from a collapsing pocket. But you don't become a superstar until you've earned it by demonstrating toughness-say for example, by throwing a last second TD pass with a separated shoulder-or taking a team with no running game and a leaky line to the playoffs. You could also reach a city's heart by becoming their franchise's best signal caller since the 50's. Or you could kill them with kindness; say by donating $15k as charity auction gift to a sick child's family. Though on the field he may still be an arm's length away from the elites (spotty accuracy and the unique luxury of a Megatron), Stafford is and has done all of these things and is one of only 5 5000-yard passers in league history at 23.
41. Johnathan Joseph [CB, Cincinnati Bengals]
Presented by: SaveourSonics
Joseph has always been an underappreciated player that is consistently strong in coverage, but hasn't been noticed during his stint with Cincinnati mostly due to nagging injuries hindering his play. People have taken notice now that Johnathan Joseph is labeled as the guy to turn the Texan's secondary from one of the worst units of 2010 to one of the best in 2011 (though the pass rush should be heavily credited as well). When Joseph is healthy, he is almost certainly a top 5 corner in the game capable of matching up with the best of receivers.
40. Jason Peters [OT, Philadelphia Eagles]
Presented by: RandyMossIsBoss
If you were to say in 2004 that Jason Peters would someday be considered a top offensive lineman in the NFL, you would have been called crazy. Peters entered the pros as an undrafted free agent with no true position. He was advised to learn the tackle position if he wanted any future in the NFL and did just that. 8 years later, he is considered one of the best at his position with 4 all-pro teams under his belt. Using his large 6'4", 340 lb frame with elite athleticism, Peters is a tremendously complete tackle. Responsible for just 4 QB knockdowns in 2011-a truly impressive feat-his pass protection was still overshadowed by his mauling run-blocking for Shady. He's probably the only tackle in the league with a highlight reel that can be appreciated by casual and advanced fans alike.
39. James Harrison [OLB, Pittsburgh Steelers]
Presented by: kethnaab
The volatile OLB was truly made for another era of football. He has served as the model criminal" in the kinder, gentler NFL of Roger Goodell, racking up hundreds of thousands of dollars in fines in addition to a suspension for his overly-physical play. On the flipside is the James Harrison Steelers fans and pro players marvel at. Coming out of Kent State and being cut a total of four times by the Browns and Steelers, he's gone on to set a Super Bowl record and earn a DPOY award after he turned 29. What Harrison gives up in size and length, he compensates for in strength, leverage, and a pass-rushing arsenal as strong as any. When healthy, he is arguably the most complete (and intimidating) 3-4 OLB in the NFL.
38. Jahri Evans [OG, New Orleans Saints]
Presented by: DrawABlank
To be this high as a guard, you've got to be pretty special. Evans has the size, quickness and agility to dominate the line of scrimmage against almost any type of DT - from lighting quick three techniques to hulking 350lb NT's. He's super consistent, smart, durable (never missed a start), and his league-wide standing can be seen as a three time Pro Bowler and All-Pro despite little hype as a 4th rounder out of tiny Bloomsburg. As if he wasn't already greatly admired by the fan base, his willingness to restructure his deal to help the team this year only cemented his status as a sensational Saint.
37. Clay Matthews [OLB, Green Bay Packers]
Presented by: RashaanSalaami
A year after just missing out on being the Packers second consecutive player to win DPOY, Matthews finished 2011 with a disappointing 6 sacks. There are often only two things fans notice about Matthews-his hair and his pass-rushing ability. While Clay Matthews' greatest value to the Packers is his pass-rushing ability (not to be forgotten he had 23 hits and 27 hurries in 2011 compared to 12 and 21 the year prior), his well-roundedness was more often utilized last year. He did a remarkable job dropping into zone and defending the pass and an ample job holding up against the run as well. Using athleticism, instincts, and football smarts, the defense feeds off the energy and excitement of the third generation player.
36. Trent Cole [DE, Philadelphia Eagles]
Presented by: RandyMossIsBoss
Known as "The Hunter," Trent Cole has been terrorizing opposing quarterbacks ever since he entered the league in 2005. He may not be the strongest guy on the field, or the fastest, or even the smartest, but he is the most tenacious. This man truly plays every snap like it's his last, and for that reason, he has been the sole constant on the Eagles defense for the past several years. Cole is one of the most productive pass rushers since 2007 and is effective in defending the run. Of the 18 active players with over 60 sacks, only two are under the age of 30, and Cole is one of them. Expect this man to continue to produce for years to come.
35. Nick Mangold [C, New York Jets]
Presented by: goldfishwars
Since being drafted in the first round in 2006, Nick Mangold has been to four Pro Bowls and been named All-Pro in each of the last three years. Troubled with injury early last year, it was abundant to everyone how much the line struggled in his absence. He returned to full health bringing with him more of what we've been used to-a rare dominant center capable of protecting with his quarterback savvy and the strength/quickness to hold up in a one-on-one battle in the middle and as the lynch pin in which an offensive game plan can be build upon.
34. Philip Rivers [QB, San Diego Chargers]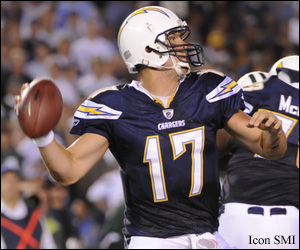 Presented by: RaisinBran
Despite an off year last year in 2011-12, Rivers has proven himself to be an elite QB in the NFL over many years. Since 2008, he has averaged nearly 30 TD's and only 13 INTS. Rivers has a knack for throwing an accurate deep ball and across all areas of the field. He stands tall in the pocket and is rarely fazed under a heavy pass rush. Despite injuries to his targets on offense seemingly every year, he continues to find the end zone with regularity and amaze with his precision and accuracy. Only 30 years old, he will continue to put up elite numbers for some time. It's now up to Philip Rivers to prove that last year was a fluke.
33. Lamarr Woodley [OLB, Pittsburgh Steelers]
Presented by: kethnaab
The Wolverine DE convert has become an anchor for the Steelers defense. He dominated in the postseason, registering sacks in his first 7 appearances, a streak that spanned 3 postseasons. In 18 postseason games, Reggie White totaled 12 sacks. Woodley has 11 sacks in 8 games, and should easily pass the Minister of Defense in due time. He answered criticisms that he benefitted from playing opposite James Harrison by registering 7.5 sacks in 4 games while Harrison was out. He contains the run, drops into coverage, and terrorizes QBs-a complete strongside outside linebacker. A Steelers' classic.
32. Vince Wilfork [NT, New England Patriots]
Presented by: goldfishwars
8 years into the league and with 4 Pro Bowls under his belt, Vince Wilfork is still the league's premier nose tackle-and after his 2011 season, he still seems to be coming into his prime just now. With rare movement skills for a man of his stature (6'2 and 325 pounds), Pats fans will tell you he had one of his most effective campaigns last year, doing what he does best, taking on blockers and being a monster against the run and he did it all with very little help alongside him up the middle. In today's game though, dominance cannot be bough with run support alone. As a pass rusher, Wilfork was remarkably effective in pushing back the pocket and imposing claustrophobia upon opposing quarterbacks.
31. Ed Reed [S, Baltimore Ravens]
Presented by: RavensTillIDie
He may be on his last legs, but he's still one of, if not arguably the best FS in the league today. Though he did manage to play an entire 16 games for the first time since 2008, you'd still have to consider his 2011 year sub-par by his own standards. Despite his substandard statistical numbers, Reed once again came through in the clutch during the post-season sealing the deal against the Texans with an interception, and helping to limit Tom Brady and the Patriots to one of their worst passing performances on the season. He may not have many more years left, but as long as he's playing, you have to believe not too many opposing quarterbacks will be be eager to throw at #20.
30. Ben Roethlisberger [QB, Pittsburgh Steelers]
Presented by: kethnaab
The Steelers' 2004 first round draft pick began his career with a bang, leading the Steelers to a 15-1 record and the AFC Championship Game as a rookie. For an encore, he led the Steelers to a Lombardi Trophy in his 2nd season and engineered one of the most impressive game-winning drives in Super Bowl history. His incredible strength, size, and arm enable him to avoid sacks, absorb hits, and rally up late-game heroics. His style is very unorthodox, much to the chagrin of 'purists' such as Steve Young, but he has re-invented and perfected "he just wins".
29. Jake Long [OT, Miami Dolphins]
Presented by: goldfishwars
Hampered by a troublesome shoulder injury, Jake Long missed a couple of games last year, his first absence in the starting lineup since he was drafted 1st overall in the 2008 draft. Combining size, strength, consistency, leadership, toughness, and technique, Long is a mainstay on the Dolphins offensive line that can make any offensive philosophy work. He'll improve the tenacity of the locker room and lead by example of what it takes to be great. At 6'7 and 319 pounds, Long is a special on-field athlete tailor-made for the position and the type of 'dancing bear' left tackle that seems to be more of a rarity than it used to.
28. Jimmy Graham [TE, New Orleans Saints]
Presented by: DrawABlank
How do you defend this guy? Many coordinators and players asked themselves this question last year. He's 6'6 260lbs with outstanding speed, body control, a huge wingspan and great hands. He can separate vertically from the best of linebackers (Patrick Willis) and elevates beyond a comfortable reach for any DB. His basketball background helps him in this regard, but also to contest and shield the ball on quick routes. And what's even scarier is that he shows great willingness to improve – his route stems and feel for zone coverage improved significantly from the year prior. Now if he can devote himself to improving his craft as an inline blocker, the sky truly is the limit.
27. Eli Manning [QB, New York Giants]
Presented by: RashaanSalaami
After years of much debate surrounding Eli's placement on a quarterback ranking list, the younger Manning transformed his game to turn in a career year and became the first in the family to two Super Bowl rings. Always with a strong arm, a good understanding of the game, and terrific tools, Eli Manning stepped up his consistency in the pocket with improved footwork, delivering strike after strike to a lethal receiving corps. Cutting down on the mistakes that have hampered his career, Manning led the Giants to the Super Bowl with career highs in yards and YPA. With the proven ability to sustain a level of play in crunch time and under pressure, Eli Manning has silenced critics and emerged as one of the best quarterbacks in the game today.
26. Nnamdi Asomugha [CB, Oakland Raiders]
Presented by: RandyMossIsBoss
A model of consistency, Nnamdi Asomugha, better known as Scrabble, has allowed an average of just 20 catches a year since 2008. His 6' 2" frame and monstrous wingspan allow him to get his hands on the opposing receiver in an instant. These unique physical tools and nearly flawless technique make Nnamdi one of the most effective cornerbacks in the league, particularly excelling in man to man press coverage. Though he saw a dip in production in his first year as an Eagle, this was more likely due to only having a month to learn a new scheme that forced him to play outside a comfort zone had been accustomed to in Oakland.
25. Carl Nicks [OG, Tampa Bay Buccaneers]
Presented by: DaRealdeal
Carl Nicks is a rare breed. Standing 6'5 and topping the scales at nearly 350 pounds, the 2x All-Pro left guard is a dominant force, plain and simple. He's a true road grader in the run game, with surprisingly good feet, and he was a key component of an offensive line that only allowed 24 sacks this past season (tied for 2nd best in the league). Having just turned 27 years old this off-season, he may not have reached his peak just yet. That's a scary thought.
24. Troy Polamalu [S, Pittsburgh Steelers]
Presented by: kethnaab
One of the most unpredictable and electrifying players in the league, Polamalu has given offensive coordinators fits since being drafted in the first round of the 2003 draft. His speed, instincts, and sheer athleticism produce highlight reel plays time and time again while forming the basis upon which the new Dick LeBeau defense has been built. His ability to generate game-changing turnovers in the passing game while stuffing the run makes the 2010 DPOY one of the most feared defenders in the NFL. Teams are forced to gameplan away from the flying hairball, for their own good.
23. LeSean McCoy [RB, Philadelphia Eagles]
Presented by: RandyMossIsBoss
No player was more electrifying than LeSean "Shady" McCoy this past season. He amassed over 1,600 yards from scrimmage, averaging over 5 yards each time he touched the ball en route to a franchise record-breaking 20 touchdown season. Keep in mind that Shady put up these impressive numbers playing one less game than most running backs. He possesses elite agility and vision which allows him to make plays even when it may appear as if he'll be brought down in the backfield. His play has drawn comparisons to the great Barry Sanders, and while it may be a little early to consider McCoy to be at Barry's level, the comparison alone shows that LeSean is one of the NFL's best backs.
22. Julius Peppers [DE, Chicago Bears]
Presented by: Superman(DH23)
At 6'7", 290 lbs, with long arms and LB speed, Julius Peppers has become the epitome of a 4-3 defensive end. For collegiate prospects, he's the baseline for the ultimate athlete. For a decade, Peppers has used these athletic gifts to wreak havoc upon opposing offensive lines. In 2011 Peppers left the 5th game of the season with what looked like could be a serious knee injury. Bears fans breathed a collective sigh of relief when he returned to the field just a few plays later. Playing on a sprained knee for the remainder of the season, Peppers still accumulated 37 tackles, 11 sacks, 6 stuffs, 4 PDs, and 3 FFs.
21. Peyton Manning [QB, Denver Broncos]
Presented by: RashaanSalaami
Despite not taking a single snap during the 2011 season, Manning still earned a spot inside the top 25 of this list based on his reputation, commitment to the game, and innovation. Arguably the greatest quarterback to step onto the field with the numbers to support such an argument, Manning will look to take his fairly simple, but executed-to-perfection offense to Denver. The brilliance of Manning and his offense derives from their ability to hold a playbook at their disposal at the line of scrimmage. Willing to spend countless hours coaching his offensive teammates to perfection and detailing their routes to the inch, it's a little surprising his marriage has held up for over a decade, but it's no surprise that Manning has garnered the respect of everyone around the game and a position still inside the top 25, despite pure uncertainty regarding his health.
20. Ray Rice [RB, Baltimore Ravens]
Presented by: GaTechRavens
Ray Rice is not the biggest running back in the NFL, nor the fastest, nor the strongest. In fact, from a physical standpoint, it's hard to understand why Rice could be one of the NFL's best running backs. The easy answer is heart, determination and a feel for the game. Rice certainly isn't one to lack those attributes, but there has to be something more. If there's anything else we can point to Rice combines an unusually low center of gravity and a ridiculously strong lower body, making him shifty and hard to bring down. Rice is a lethal weapon as a rusher or a receiver, and after three years starting the rest of the league still can't figure out how to stop him.
19. Maurice Jones-Drew [RB, Jacksonville Jaguars]
Presented by: SaveourSonics
Maurice Jones-Drew has been crazy consistent during his stint with the Jaguars. Despite playing with some pretty poor offenses in Jacksonville, Pocket Hercules has been among the top 5 backs in rushing yards, receiving yards, and touchdowns since entering the league. Jones-Drew has eclipsed 1,000 total yards in every single season he's been in the league and has consistently been among the leading rushers in the league for his 3 years as the full-time starter in Jacksonville, including a rushing title in 2011. Coming out of UCLA, MJD really gave rise to the smaller, compact backs of this generation. He possesses a quick burst, a deadly force between the tackles, and solid hands in the flat. He's an all-around great back.
18. Andre Johnson [WR, Houston Texans]
Presented by: RashaanSalaami
Andre Johnson has hardly received any of the fanfare of a Larry Fitzgerald or Calvin Johnson, but that's just the way he prefers it to be. Spending countless hours in the community, Andre is a meticulous, humble, hard worker around the organization. With the size, strength, and speed to back it up, he has become one of the best receivers in the league with only random ailments stopping him to this point in his career. He's a tremendous route runner, strong after the catch, great against man and zone coverage, and has a remarkable catching radius that makes throwing him the ball fairly simple. Though slowed by a hamstring injury in 2011, expect him to return to form as one of only 3 elite receivers in the league today.
17. Arian Foster [RB, Houston Texans]
Presented by: RashaanSalaami
The King of Namaste, coined by Rich Eisen, has made a name for himself for reasons beside having the league's best touchdown celebration. His 4,061 yards from scrimmage over the past two seasons leads the league and his 30 touchdowns in the same time span have regenerated a potent Texans' offense. Finding themselves down to a rookie 3rd string quarterback in the postseason, Foster stepped up his game averaging 168 yards from scrimmage against a pair of top-7 defenses in the league and nearly managing to move onto the AFC Championship game. With a terrific blend of size, balance, vision, and patience, Foster is the top one-cut back in the league right now.
16. Jason Pierre-Paul [DE, New York Giants]
Presented by: RashaanSalaami
Long-limbed, athletic, and disruptive, Jason Pierre-Paul became a phenom for the Giants making big plays at the most opportune times. With explosive speed, quickness, balance, and strength, JPP is any offensive tackle's nightmare. He has already begun to add more moves to his arsenal and as he gains more experience at the position, there is no limit to how great he can be. Finishing the year with 16.5 sacks, 14 hits, 25 hurries, 8 stuffs, and 7 batted passes, JPP was downright dominant off the edge in 2011 and only looks to be trending upward from here on.
15. Joe Thomas [OT, Cleveland Browns]
Presented by: DrawABlank
The "franchise" left tackle. An exceptional pass blocker with a fantastic kick slide and near-perfect hand usage, he's a great athlete who can be left on an island with any pass rusher. He's so quick out of his stance that he rarely looks hurried or frazzled, even in a division with some serious pass rushers. He's also very consistent, making the All-Pro team over the past 4 seasons and never giving up more than 5 sacks in a year despite a carousel of inexperienced QB play. And he perfectly embodies the blue-collar values of Cleveland fans – this is a guy who passed on the draft day extravaganza in New York to go fishing with his dad. As Weeden grows in the NFL, the confidence his blindside is protected will certainly help him remain courageous in the pocket.
14. Rob Gronkowski [TE, New England Patriots]
Presented by: goldfishwars
Rob Gronkowski is still only 21 years old. That's difficult to make sense of when he has, two years into his career, become many observers' idea of the game's premier all-round tight end. In addition to breaking positional records as a receiving threat in 2011 with 1,327 yards and 17 TDs, he's also quickly developed into one of the best blocking tight ends in the league. He's just a real specimen who can make circus catches in the end zone, seal off defenders with ease and bust out yards after the catch with physical runs.
13. Terrell Suggs [DE/OLB, Baltimore Ravens]
Presented by: GaTechRavens
What do we know about Terrell Suggs? Surprisingly little, given the Achilles tear he suffered in early May. However, on a list that doesn't discriminate against the wounded, Suggs is judged simply by what we have seen from him when healthy. And man, have we seen something. A far cry from his 2009 nadir when motivation and weight issues clouded his career, Suggs has taken on a new life and blossomed as one of the league's most dominant defensive forces. He certainly gets the job done as a pass rusher, but his best attribute is his versatility. He not only dominates when getting to the quarterback, but also against the run and, for his position, in coverage.
12. Justin Smith [DE/DT, San Francisco 49ers]
Presented by: DrawABlank
Smith is coming off a year that saw him named to the 1st-team All-Pro at DT and 2nd-team at DE-but he's no one-year wonder. He's been a hugely disruptive force against both run and pass in 4 years in the Bay Area. Strong with his bull rush, plenty burst to turn the corner or shoot gaps, and always with impeccable technique and leverage, Just Smith is an unblockable force for stretches at a time. Paired with a promising edge rusher like Aldon Smith, the Niners may be the rare exception of a defense that sees more unbalanced lines and protection slid in the opposite direction. Leading by example on the field, playing almost every snap, and starting every game since 2002, Smith is the cornerstone of the best defense in football.
11. Adrian Peterson [RB, Minnesota Vikings]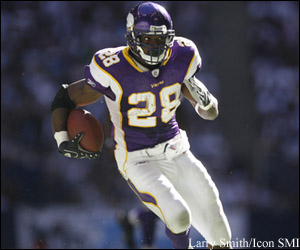 Presented by: vikingsrule
In most ordinary circumstances, Peterson is very deserving of being recognized as a top five overall player in the NFL; however, there are still obvious question marks regarding the health of his knee going forward. Despite missing four games in 2011, Peterson was still able to churn out 970 yards on 4.7 yards per carry, and ranked among the league leaders in rushing TDs (12). When Peterson is on the field for Minnesota, he is a historically special RB and a huge difference maker to the offense. While other RBs have moved up and down the overall rankings, Peterson has been consistently regarded as the best RB in football since entering the league in 2007.
10. Haloti Ngata [DT, Baltimore Ravens]
Presented by: GaTechRavens
On a franchise famous for its 300+ pound behemoths, Haloti Ngata is perhaps the most formidable of them all. An unbelievable athlete for a man of his size, Ngata packs a surprising punch as a pass rusher with 5 sacks in each of the past two seasons. Yet his greatest strength of all lies within his girth. Ngata's ability to clog the line and give running backs absolute hell is unrivaled in the league today. At 28 and entering his 7th season, Haloti Ngata is in the prime of his career and still improving-he just might provide old school football fans with something even more spectacular this coming season.
9. Jared Allen [DE, Minnesota Vikings]
Presented by: vikingsrule
To put it bluntly, the Vikings pass coverage was dreadful in 2011. The Vikings gave up 251 passing yards per game (7th worst) and gave up a league-leading 34 TD passes. It's astonishing that Jared Allen was able to record 22 sacks last year with the little support he received from the secondary. Allen is very deserving of being recognized as the best 4-3 DE in football due to his elite pass rushing skills, consistency as a run defender and being the ultimate hustle player for years. At just 30 years old, Allen has 105 career sacks and a motor that simply has not shown any signs of slowing down.
8. Patrick Willis [ILB, San Francisco 49ers]
Presented by: SaveourSonics
Patrick Willis is unanimously considered the best inside linebacker in the game and at only 27 years old is showing no signs of slowing down. Since entering the league in 2007, Willis leads all players with 9.1 tackles per game. But unlike most backers in today's league, Willis is far from one-dimensional. He is incredibly effective rushing the passer for a 3-4 ILB, recording 17 sacks as a 49er. He has also been improving as a pass defender, and plans to take on an even more increased role covering TEs as they grow more prevalent in the league. With the size, sideline speed, and by-example leadership, Willis is as close to perfection as a linebacker can get.
7. Larry Fitzgerald [WR, Arizona Cardinals]
Presented by: khodder
In 2011, Larry Fitzgerald posted one of the most efficient and effective seasons of his career. Despite the subpar play of his quarterbacks, his 17.6 ypc average broke a career high by 2.5 yards. A complete receiver, Fitzgerald can stretch the field vertically or make the tough catch over the middle; win in a jump ball or create yards after the catch. With the best hands in the NFL, rarely does he drop a pass in his zone and he regularly finds a way to hang onto those he has no business getting close to. An incredibly hard worker Fitzgerald will continue to be among the best at his position for the foreseeable future.
6. Darrelle Revis [CB, New York Jets]
Presented by: goldfishwars
The phrase shutdown corner is encapsulated in only one current NFL player and he is Darrelle Revis. Revis succeeds through a combination of aggression at the line of scrimmage and an ability to physically control his match-up. He's an intelligent player who spends hours studying his opponents in the film room to gain an advantage on game day. Even an underrated player in run support, there isn't another corner in the league who brings as much value to his defense and a defense that is more structured around a corner's ability to shut down a top receiver than the Jets and Darrelle Revis.
5. Calvin Johnson [WR, Detroit Lions]
Presented by: DrawABlank
Megatron has evolved into Galvatron – destroyer of worlds (and man coverage). Through his unmatched physical abilities alone, he was able to put up 1100/12TD seasons with Kitna and Hill throwing him the ball. But with a healthy Stafford, and after making improvements in his route-running skills, he is now an almost unstoppable force. He's stronger than anyone trying to cover him, and faster than most, and he's a jump ball receiver with no peer. A truly elite player is one that is the focus of an opposing game-plan and he still dominates. In his first postseason game again the Saints, CJ exploded for 12 receptions, 211 yards, and 2 TDs on only 15 targets, displaying that capability in Technicolor.
4. DeMarcus Ware [OLB, Dallas Cowboys]
Presented by: MaddHatter
The best defender in football has already cemented his legacy in franchise history and is well on his way to putting together a HOF resume. In 7 seasons he's gone to 6 Pro-Bowls, 6 All-Pros, has led the NFL in sacks twice (tied NFL record), posted the 7th 20 sack season in history (2008), and came within a half-sack of becoming the first player eclipse that mark twice in a career. With his first sack in 2012, he'll hit the century mark in only 112 starts. But as great a sack artist as Ware is, he's by no means a one-dimensional player. In recent years, he's allowed one of the stingiest averages of any DE/OLB when rum at. With consistency, persistence, and talent, Ware is the premier player at his position and should continue to be in the future.
3. Drew Brees [QB, New Orleans Saints]
Presented by: DrawABlank
6 years ago, an NFL front office chose Daunte Culpepper over Drew Brees. Several years and a bad decision later, there isn't a player that means more to a city than Brees to New Orleans. Obviously a great player-an all-time leader in single season passing yards and completion percentage-Brees shows his insane accuracy, anticipation and command of the offense every time he steps on the field, while his 22TD/4INT playoff numbers attest to his decision-making under the highest pressure. But the devotion he receives from his teammates, the leadership he offers young players, and his enduring commitment to the re-birth of the community grade him out as an all-time great – and he's not finished just yet.
2. Tom Brady [QB, New England Patriots]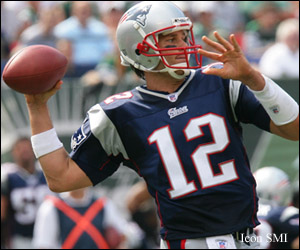 Presented by: goldfishwars
Tom Brady is a prime example of how intelligence and work ethic can triumph over God-given athletic gifts. He's used this drive and game intellect to turn himself into a composed master of the pocket where he showcases his ability to manipulate defenders to create space for his receivers. Great quarterback of all-time arguments will continue to eternity, but it's easier to make the case that of all the elite quaterbacks, Brady has been able to do the most, with the least. With a decade of mastery to reflect on, no roster Brady under center will ever again be discounted or taken lightly.
1. Aaron Rodgers [QB, Green Bay Packers]
Presented by: RashaanSalaami
After his fourth year starting (seventh in the league), Rodgers has always managed to find a chip on his shoulder to improve himself. With a level of competitiveness that includes throwing tantrums after losing a game of cards on an airplane ride back from a road game, the 24th pick of the 2005 NFL Draft has ascended to the top of his craft. When combined with the best all-around skill-set in the league, Rodgers is a difficult weapon contain with any singular look, plan, or philosophy. On-field, it's easy to appreciate the pinpoint accuracy, instant release, tremendous arm, or Houdini-like escapability, but it's his ability to connect with teammates (such as remembering everyone's birthday) that forces the entire locker room to detail their own games to elevate the organization.