wgbeethree


Joined: 15 Dec 2009
Posts: 3945
Location: Denver, CO via Racine, Wisconsin
Posted: Fri Jan 18, 2013 3:41 pm

Post subject: Someone please say something about me mock.
---
Cut:
Woodson
Kuhn
Saturday

Resigned:
Sheilds
EDS

Tagged:
Jennings

ROUND ONE
Sharrif Floyd DE Florida 6'3" 305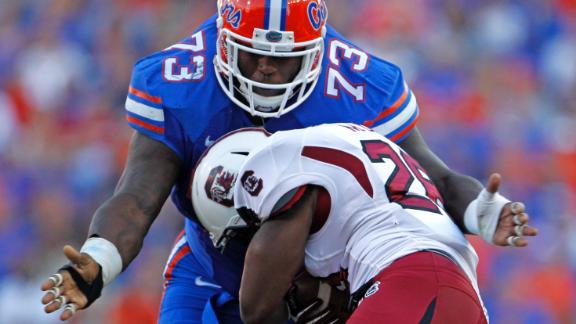 ROUND TWO
Sylvester Williams NT UNC 6'3" 320



ROUND THREE
Shamarko Thomas S Syracuse 5'9" 215



ROUND FOUR
Dennis Johnson RB Arkansas 5'8" 210



ROUND FOUR (COMP)
Kevin Reddick ILB UNC 6'2" 240



ROUND FIVE
Brandon Jenkins OLB FSU 6'3" 260



ROUND SIX
Marquise Goodwin WR/RB/KR Texas 5'9" 180



ROUND SEVEN
Kyler Reed TE/FB/H-Back Nebraska 6'3" 230



Mostly wanted to get some new names out there that I haven't seen in too many mocks.
Floyd and Williams add to the front seven early.
Thomas adds some serious speed to the secondary.
Johnson is a good all around back with vision.
Reddick is good value there. Like him and Manning together in the future.
Jenkins is a potential top end talent that will slip because of injury.
Goodwin is FAST, electric, and versatile.
Reed is an athletic and dynamic player ideal for HBack duties and ST.
_________________


TytybearsFan21 wrote:
Justo knows nothing about sportz
justo wrote:
I would be a terrible coach/anything.