Free Agency:
Ryan Clady
End up franchise tagging him then signing him long-term. He gets paid and takes up most of our cap room.
Brandon Stokley- WR
Return of Stokley. Have to do it. Peyton has a great rapport with Brandon and he clearly showed he has a couple miles left in the tank.
Kevin Vickerson- DT
Re-signed to 2-year deal. He played very well this year after putting on some weight. I dont see why we wouldnt re-sign him.
David Bruton- ST's ace
Have to keep Bruton. Hes a great STer and capable backups backup.
Chris Clark- OT
Nice swing-tackle and good in jumbo packages.
Britton Colquitt
RFA tender him and sign long-term
Jason Jones-DT: 6'3", 276 lbs.
Was injured this year so he will come cheaper than last year. Hes still worth taking a shot on, especially given the state of our DL.
Domenik Hixon-WR: 6'2", 200 lbs.



Coming back to the homeland and where he got drafted. Hes a good backup as we need to upgrade our WR's with bigger bodies.






2013 NFL Mock Draft:



Picks: 1st, 2nd, 3rd, 4th, 5th, 6th, 7th



1st Round: Margus Hunt DE/DT




6'8" 285 lbs.


Outside of Ezekiel Ansah and Alec Ogletree, Margus Hunt has the most potential of any other defensive player in this draft. Hes a physical and disruptive force, who has yet to even scratch the surface. I believe people are projecting him in the 2nd right now but will likely be a late-1st by May.





2nd Round: Andre Ellington RB Clemson




5'10" 200 lbs.


Ive been on the Ellington bandwagon since last year. The total package at the RB position and we get great value in the 2nd round. Should be able to compete immediately and should be a great player to match with Hillman.





3rd Round: Blidi Wreh-Wilson CB Connecticut




6'1" 189 lbs.


INot many people have heard of him, mainly because UCONN had a rough year in football. That doesnt mean they dont have players. Wilson is a stud on the outside. I love his press coverage and his loose hips. I believe he could step in immediately on the outside, when Harris bumps to the slot in the nickel. Eventually Wilson would replace Champ.





4th Round: Ryan Swope WR Texas A&M




6'0" 205 lbs.


If anyone watched Johnny Football this year then they know of this kid. Is so under-appreciated it sickens me. Doesnt matter. Hes a perfect fit in this offense and should learn a lot playing behind Stokley and Decker.





5th Round: Montori Hughes DT Tennessee-Martin




6'4" 327 lbs.


Hughes is the prototypical big SEC defensive tackle and follows most of them that got kicked out of school for behavior problems their first year. Hughes went to Tennessee but was dismissed after just two years. He was a force when he played and continued that play in the Ohio Valley Conference. Hes fighting some injuries right now (foot) so getting him this late is likely. Steal.





6th Round:Ace Sanders WR South Carolina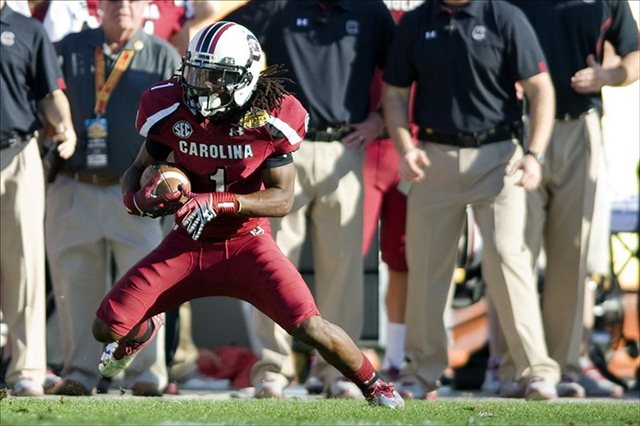 5'8" 176 lbs.


Not fast but quick and knows how to find the endzone. He excels in finding soft zones and moving well in space. He will likely struggle till he learns to beat press coverage but I believe he can be an asset in this offense.





7th Round: Joe Kruger DE Utah




6'4" 280 lbs.


Brother of Paul Kruger (OLB/DE Ravens) and plays with same tempo. A very high motor and can easily improve in every facet of his game. Not as talented as his brother but is a high-reward type in the 7th round.







53-Man Roster:




Rookies




Free Agent





Offense-

(25)
QB: Manning/Osweiler/Hanie
RB: McGahee/

Ellington

/Hillman/Moreno
FB: Hester
WR1: Thomas/

Hixon


WR2: Decker/

Swope


WRslot: Stokley/

Sanders


TE:Dreessen/Tamme/Green/Thomas
LT: Clady
LG: Beadles
C: Walton/Blake
RG: Kuper
RT:Franklin/Clark



Defense-

(24)
DE: Dumervil/Ayers
DT:

Jones

/

Hunt


DT: Vickerson/

Hughes


DE: Wolfe/Jackson/

Kruger


WLB: Woodyard/Trevathan
MLB: Williams/Johnson
SLB: Miller/Irving
CB: Bailey/

Wreh-Wilson


SS: Adams/Carter
FS: Moore/Bruton
CB: Harris/Carter/Bolden



Special Teams-

(4)
K: Prater
P: Colquitt
LS: Brewer
KR/PR: Holliday
_________________