2010 Senior Bowl: Monday Recap
By: Roshan Bhagat | Updated: 1/26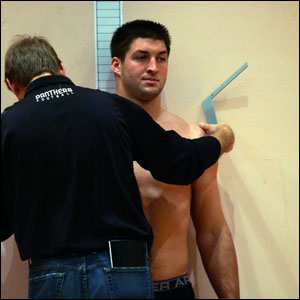 Tim Tebow at 6'2 3/4 and 236 lbs - Icon SMI

Senior Bowl Preview | Monday Recap | Weigh-ins


In 60-degree temperature, the Senior Bowl began Monday morning in Mobile, Alabama. The day consisted of a weigh-in in the morning – to which Football's Future has the complete results – and an afternoon practice session for both the North and South teams. Though these numbers weren't measured quite as carefully as the ones next month at the Combine, they gave scouts and general managers an idea of what they can expect from some of the tweeners and players on the borderline. While news and buzz from the South practice traveled quickly, the North Practice was held inside Ladd-Peebles Stadium, where a number of players began their ascension, while others moved in the other direction.

As one of the greatest college football players in history, Tim Tebow will garner a lot of discussion this week as scouts attempt to uncover the puzzle. His mechanical problems were accentuated even more today as he had to worry about reading defenses and taking snaps directly underneath center, where he struggled with exchanges and footwork. It looked like he was moving in slow motion for the entire afternoon. Of the North quarterbacks, Tony Pike appeared to have the strongest arm, while Dan LeFevour had the prettiest looking ball coming out of his hand. All three quarterbacks on the North squad, including Sean Canfield, looked inconsistent today and unimpressive on the whole. Things should continue to improve as they develop a little more chemistry with the wideouts.

The running backs typically always go unnoticed in this event and especially so without pads. LeGarrette Blount measured in at a rock solid 245 pounds and moved well all day, including a long run. If his character issues check out, he's the type of back that could be a draft day steal based on his speed-size ratio and overall talent level. Another back to keep an eye on is Joique Bell out of small school Wayne State. He also has good size (5'11, 223) and is a smooth runner. He looked good with the ball in his hands today.

Taylor Price was unequivocally the star of the receiving unit today. When the football arrives at his hands, it stops on contact, which shows great concentration and confidence. The receiver from Ohio was equally impressive in running comeback routes and going vertical. Not that Ohio's a small school, but he could be one of unexpected players to catch Mobile by surprise. Aside from him, I was impressed to a lesser extent in Jacoby Ford. He's a track star who wasn't asked to run the complete route tree at Clemson, he did a nice job gaining separation in off coverage in the one-on-one drills. Though he dropped a pass and bobbled one or two others, Ford also made a pair of nice catches on the afternoon. Mardy Gilyard, on the other hand, didn't get started on the right note. He weighed in at a frail 179 pounds and dropped several passes throughout the afternoon. Many were expecting him to light up the Senior Bowl, so he'll need a quick turnaround to get back on that track. Among tight ends, Ed Dickson had a great day. He aggressively attacked the ball and plucked it out of the air. While many have Jermaine Gresham, Anthony McCoy, and a pair of juniors in front of him, Dickson could easily be the most productive tight end in his rookie year. He's very polished and consistent.

Along with Taylor Price, offensive guard Mike Iupati was one of the most dominant players in the first practice. He struggled just a tad in a pair of one-on-one drills getting caught off balance right off the snap, but was dominant as a run blocker, even without pads on. He has great balance and is, honestly, one of the best 325 pounders I have seen in the last few years. With a string of days like today, Iupati will solidify himself as not only the top guard, but as a potential top 20 pick. Vladimir Ducasse was the other prospect we wanted to keep an eye on coming into this week. The Haiti native is only in his 6th year playing football, but has shown the potential of a 1st round pick. He's being worked as an offensive tackle this week, but could ultimately be moved inside to left guard as well. He has great functional strength and terrific feet for a big man. In his best match-up, he was beaten by O'Brien Schofield on the first play in one-on-one drills, but came back to beat him on the next, a play where Schofield injured himself. Ed Wang looks out of place at tackle going up against any type of speed. He's probably best suited for offensive guard.

Terrence Cody at 6'4 and 370 lbs - Icon SMI

The worst news of the day comes from the play I alluded to earlier. Defensive end O'Brien Schofield from Wisconsin suffered a torn ACL, which will keep him to the sidelines for a while. Prior to the injury, he appeared to be the quickest end on the North squad and had beaten several tackles on the speed moves to the outside. Most felt that he would make the transition to outside linebacker, but won't have the benefit of going through drills at the Combine. Hopefully we can see him return at some point in the near future, even if it means starting from the practice squad. The defensive lineman that impressed me most in today's practice was Penn State's Jared Odrick. He showed a sort of relentlessness and an explosive bull rush to attack offensive guards. Pairing it with swim and rip moves, he did a nice job of collapsing the pocket. It should be mentioned that the one-on-one drills are geared toward defensive victories. Brandon Graham measured in at a short 6'1 with only 30 ½" arms, which could pose a problem at the next level. In drills, he continued to excel, playing with a low base and excellent speed off the edge. Still, the biggest splash on the defensive line was made earlier that morning during the weigh-in. Terrence "Mount" Cody confirmed his nickname, measuring in at a 6'4, 370. It's a weight I'm sure disappointed many scouts and fans who were hoping to see him well short of 350. 370 is a number every team will want to consider, regardless of how many pounds he loses by the Combine. That number should have been much lower with Alabama just having concluded their season mere weeks ago.

Among linebackers, I look forward to watching both Sean Weatherspoon and Daryl Washington. Washington measured in at 226 pounds, which is still on the smaller side, but a number many teams will be willing to live with at WILL linebacker. Weatherspoon was once considered a sure-fire 1st round selection, but has slipped a bit over the season. He wasn't all that impressive today, but needs to come up with some plays and show he can be a coverage linebacker to given him added value.

For the North team, I have a feeling this is really going to be an eye-opening week for Kyle Wilson, one of the nation's most complete cornerbacks. He's intelligent with a high football IQ. All day he blanketed receivers and broke on routes just as receivers were making their turn. I expect him to get his hands on a lot of passes and continue to move into the first round, right behind Joe Haden. Rutgers' Devin McCourty is another prospect garnering a lot of attention in the draft world these days. He has elite special teams value, but more importantly pieced together a complete season on defense. McCourty is very quick, but likely also the fastest player on this defense. It wouldn't be too shocking to see him even sneak into the tail end of the first round, though the second seems more reasonable based on only one elite season. Brandon Ghee struggled a bit today. He lost his footing on a couple plays and also dropped a ball or two. From the buzz that's made its way from the South practice, safety Myron Rolle looks rusty as most expected he would be. Hopefully he can get his instincts back to a point where he can react more and think less before the week is over.

With both teams finding their footing, look for the intensity to heat up tomorrow as both teams begin to turn it up a notch. The NFL Network will cover the North Team Practice from 12:00-1:00PM tomorrow, while having their first look into the South Practice from 3:00-4:00PM.




NFL Draft | 2016 NFL Mock Drafts | Profiles | 2016 NFL Free Agents | NFL Forum | Contact
Copyright &copy 2016 FootballsFuture.com. Do not duplicate or redistribute an any form.
Privacy Policy