The quarterback position is quite possibly the most important position on the field. It is at least the position that carries the most weight on draft day. There are always teams looking to upgrade their QB situation, and have the spot settled for the next ten years. The 2009 and 2010 drafts combined saw four signal callers land in the first round, with quarterbacks going in the top spot in both drafts. This year's draft alone could provide four first round quarterbacks: Blaine Gabbert, Cameron Newton, Jake Locker and Ryan Mallett are all likely first rounders this year.
QB RANKINGS
Blaine Gabbert, Missouri
Cam Newton, Auburn
Jake Locker, Washington
Ryan Mallett, Arkansas
Christian Ponder, Florida St.
Andy Dalton, TCU
Colin Kaepernick, Nevada
Ricky Stanzi, Iowa
Tyrod Taylor, Virginia Tech
Nathan Enderle, Idaho
Of the top four quarterbacks, only Jake Locker of Washington is a senior. Locker has an impressive package of physical tools, but it's his toughness and leadership that truly stand out. He possesses good size for the position, and has the frame to take hits in the pocket. His arm strength is outstanding and his athleticism is tremendous. He can sit in the pocket and make any throw, but also has the mobility to not only escape the rush and throw on the run, but to also pick up big yardage on the ground with his feet. Locker has shown the ability to step up and make big plays when his team needs it, and is praised for his work ethic and attitude. He does not come without some question marks, however. Locker has had some durability issues during his career, missing time for thumb, neck, and rib injuries. The biggest question though is the fact that he is still a work in progress. He has only spent two seasons in a pro style attack, so he should be given some benefit of the doubt. However, his progress has seemed to stall this year. His completion percentage is down, he's made some questionable decisions, and his mechanics have broken down. The positives for Locker definitely outweigh the negative, especially when you factor in his work ethic. Locker should hear his name called in the first round, but there is a chance he slides into the second round.
Cameron Newton garnered all the headlines this season. He put up some amazing numbers and had a number of highlight reel plays this season, leading Auburn to the national title. He may be, pound for pound, the top athlete in the entire draft. At 6'6 245lbs, Newton has fantastic size, but also has the athleticism that could allow him to play other positions. He easily side steps the pass rush, can leave the pocket and throw on the run, and is a big play threat when he decides to tuck the football and run. In many ways, he is a larger Michael Vick. He appears more fluid and faster than Vince Young was in college, with a better arm. Newton possesses big time potential as a passer and runner, but he's also the biggest question mark. This is his only season of big time college football, as he was Tim Tebow's backup, then left Florida to play junior college ball before ending up at Auburn. While he has piled up amazing numbers and led his team to the top spot, he still has work as a passer. He still needs mechanical work, hasn't operated out of a pro style offense, and just flat out needs more experience. The biggest issues with Newton may come off the field. He has come under fire for many things this season. To his credit, he has overcome all of them to still make plays and still win games. However, teams are going to really check into his past to find out answers to some rather pressing questions. There were theft and cheating allegations at Florida, which led to his departure for junior college. At the junior college level, his father shopped him to the highest bidder, but Cameron claims to know nothing about it. While none of this may seem like it affects him as a football player, teams want to know the true character of players these days, and will exhaust every avenue to uncover the truth. On the field though, Newton has as much potential as any quarterback in the draft, but he will need some time to adjust to the next level. That potential has him among the elite prospects in the draft, and he could potentially hear his name called first on draft day.

Blaine Gabbert of Missouri was a name most people knew entering the season, but was a guy people were watching for the 2012 draft. Even though his junior numbers dropped from his sophomore numbers, his presence on the field became much larger. Gabbert's junior season saw him take charge of the offense and his team, becoming the unquestioned leader on the field. He always had the physical tools: a very good arm, great size, and good athleticism. He is a smart kid as well, but the leadership and command of the offense he displayed this year may have vaulted him to the top of the QB class this season. Gabbert is going to have to learn how to play in a pro style offense at the next level, because Missouri's spread offense leaves him unprepared for what he'll deal with in the NFL. With his talent, intelligence, and work ethic, Gabbert should not have a problem adjusting to the NFL game. Sam Bradford made a quick adjustment to the NFL despite lining up in shotgun formation for most of his college snaps, and Gabbert will hope to do the same. Not only will Gabbert battle with Cam Newton for the right to be the first QB selected, but quite possibly the first player overall.

Ryan Mallett is another junior that chose to give up his final season of eligibility for the NFL. Mallett is 6'6 and has an absolute cannon for an arm. He could step into the league right now and battle for the strongest arm. He fits the mold of a true gunslinger: He wants to throw it every time, and will try to throw the football throw anything that gets between him and his receiver. Mallett is a pure pocket passer with great size, but with that comes the lack of ideal mobility. He is not a statue in the pocket, but as he gets older and adds some more weight to his frame, he is going to find it tough to escape the rush within the pocket. The biggest thing holding Mallett back at this point is still his decision making. He has some Brett Favre in him, thinking his arm strength will always prevail. He forces throws into coverage. It results in some amazing throws, but also results in game changing mistakes. At the pro level, the mistakes will out number the big plays because tight spaces are even tighter. There are also some questions about his maturity level, so it may be wise for him to have a veteran to mentor him for a bit before stepping onto the field. Mallett appears to have slipped out of the first round, but he has the talent to become a very good starting QB in the NFL.

Christian Ponder of Florida St is arguably the second best senior signal caller in the draft, after Loker. While his senior season and career have been up and down, when he's up, Ponder shows legitimate NFL ability. He's got solid size, with a good arm, and has above average mobility. He can get on a roll and be on point with every throw he makes. However, at times he will rush plays and force the ball into traffic. With some time to sit and become more consistent, Ponder has a lot of upside. With so many teams needing help at the QB position, Ponder could benefit and hear his name called as early as the second round.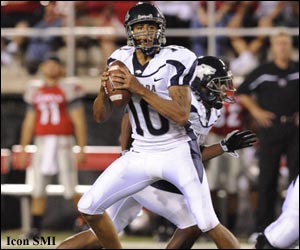 Colin Kaepernick of Nevada is very raw but has the talent and production to warrant a draft selection. Kaepernick has put in a lot of work since the season ended to ease concerns about how long it may take him to be game ready on Sundays. He had a very lean build during the season, but was noticeably bigger when he checked in at 6'5 233 at the combine. The added bulk did not hurt his athleticism or speed, as he was still impressive in agility drills. He now possess the ideal frame, with standout athleticism and arm strength. All the physical tools are there, and he's got the intangibles to go with it. He is a hard worker, has leadership ability, and has a toughness you want to see in your QB. He still needs work as a passer though. Playing in the "pistol" offense was exciting to watch and allowed him to pile up numbers, but it has also hindered his development as a pro style passer. He also needs work on his throwing mechanics. With the lack of fundamentals, there are some questions about his ability to conform, but also how quickly he'll adjust. All the tools, physically and mentally are there though, and he should hear his name called at some point within the top 100 picks.
TCU's Andy Dalton may not possess the overall physical tools of other top QB prospects, but his intelligence, leadership, and accuracy definitely stand out. He eased some concerns about his size when he officially hit 6'2 215 at the combine, and has continued to win people over with his football IQ and overall intelligence. Dalton has a good enough arm to make all the throws, shows some surprising mobility within the pocket, and those traits combined with his ability to lead a team has him looking like a second round pick as well. While he will need to adjust to taking snaps from under center, he could be ready to play early in his career because he possesses every intangible you want in a quarterback, and he's the type of player you can go to battle with every Sunday.
Iowa's Ricky Stanzi is another player that teams are following closely. He had excellent passing stats at Iowa, and has experience in a pro style attack. He has good size, a decent arm, and can elude the rush inside the pocket. Stanzi has been a hard worker and shows some toughness on the field. The biggest knock on him is his decision making, especially at the end of games. He only had five interceptions, but he has a bad habit of trying to force the ball into coverage and thinking his arm strength alone will get the ball to his receiver. Stanzi has a lot of positives, but he will need to learn to be more disciplined throughout the game and take what the defense gives him. He has some potential to be a starter down the road, but he'll need some time to fine tune his game. The need for QB's could push him into the third round, but he is a solid developmental QB no matter where he is selected.
There are a couple more developmental guys that could go on day three of the draft: Pat Devlin(Delaware), Nathan Enderle(Idaho), Tyrod Taylor(Virginia Tech), and Greg McElroy(Alabama) have some tools to work with that could provide some value to their teams in the future.