2010 Senior Bowl: Tuesday North Recap
By: Roshan Bhagat
Tuesday South Recap | Tuesday North Recap | Monday Recap | Weigh-ins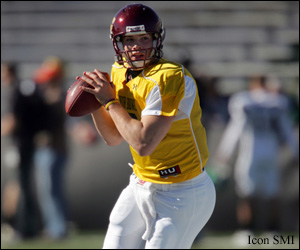 Dan Lefevour at Senior Bowl practice
The North team picked up the tempo on Tuesday with a full-padded practice. Jim Schwartz's team look much better today on the whole, making fewer mistakes and more cohesive. Few players shot up drastically, but this was a much cleaner practice on the whole, with players on both sides of the ball making some good plays.
At quarterback, this side really has no stars to attract fans like Tim Tebow. Though it's much too soon to make an official statement, it looks like Tony Pike is separating himself from the pack and will be the starter for Saturday's game. As I noticed yesterday, he has the best arm of the crew here, putting good zip on intermediate throws and outward-breaking routes. He showed a good command of the offense, throwing with good rhythm and completing a number of passes downfield. Behind him is Dan LeFevour, who sometimes struggles to drive the football on the longer passes to the sideline. He wasn't quite as consistent today as he typically is, but has the best chance of unseating Pike as the team's best. Sean Canfield showed poor arm strength and inconsistent mechanics, chucking the ball all over the field, missing wide open receivers. Looking to build off a great end to his senior season, Canfield has done nothing in the first two days to solidify himself as anything more than an undrafted free agent.
The more I've watched from the running backs on this side, two just keep sticking out play after play. The first is Wayne State's Joique Bell. His build reminds me what running backs used to be; he's 5'11, a tough 223 pounds with broad shoulders and wide hips. Though he lacks great long speed, he's done a marvelous job this week in showing tough, instinctive running, while breaking off a couple of nice runs in the team portion of the drills, including a touchdown today. He was one of the best backs in pass protection today and if I saw correctly, he was even giving pointers to a teammate on how to punch and stay within the framework. LeGarrette Blount has also made the most of his opportunity this week, despite facing a suspension for much of the season for the punch he threw in the regular season opener. He's a remarkable physical specimen who could very easily be one of the most productive backs from this draft class. Blount struggled a little in pass protection, but ran hard, downhill through the middle of the offensive line. Lonyae Miller was repeatedly abused in pass protection drills against linebackers.
In Monday's recap, I wrote that Mardy Gilyard would need to turn his week around to impress as many thought he could. On Tuesday's early practice, he did just that, impressing on a number of occasions. Blessed with quick feet, he ran precise routes and consistently broke free from defenders, making plays in the process. In one battle against Syd'Quan Thompson, a player that has impressed some this week, he shook off press coverage at the line and beat him for six. I did see him drop a few balls on the ground again today, which is something he needs to correct. Danario Alexander from Missouri repeatedly exhibited his physicality as a route runner and as a receiver going across the middle. He's not very quick, but showed consistent hands and the understanding to use his large body as a shield. Taylor Price didn't have the sensational crowd-pumping plays from Monday, but put together a second consecutive day of a productive practice. He's a speedster, but looking at the way he runs routes and gets off the line of scrimmage, it's easy to see why some consider him of second round value. Dorin Dickerson made a nice play or two, but seems a little outmatched by cornerbacks. His best value will be as an H-Back. Ed Dickson built on Monday's practice to add even more explosive plays to his Senior Bowl resume. Dickson is a solid athlete and can get down the seam quickly, but also has the hands and aggressiveness to attack the ball, rather than wait for it to arrive to him. Mike Hoomanawanui also excited some with his physical route-running, but should make sure not to just bowl over defenders and draw offensive penalties in doing so.
Yesterday's smaller school stars, Vladimir Ducasse and Mike Iupati were asked to do more today. Ducasse took some reps inside where he struggled with technique where Tyson Alualu beat him on successive snaps in one-on-ones. Iupati on the other hand was asked to play some left tackle. It was quite obvious that it was new to him as he struggled to adjust his footwork. Alex Carrington blew right past him on one encounter and even left Iupati on the ground on another. I think it's a stretch to ask Iupati to play left tackle at the next level when he has such great potential as an All-Pro guard. Center Matt Tennant measured in a little undersized, but has played with nice balance and handled the bigger guys pretty well for the most part. Eric Olsen struggled immensely in the one-on-one drills, working at center today, allowing the defensive tackles to push him into the "quarterback" on a number of occasions. Zane Beadles has lost one-on-one matchups at right tackle every time I've caught a glimpse of him. Sam Young has been a mixed bag. He doesn't have the elite tools and has been schooled with speed several times in the first two games, but has also done a nice job stoning a couple others.
Mardy Gilyard at Senior Bowl practice
Last year we had Lawrence Sidbury, a small school defensive end, who was dashing past tackles every time we saw him. This year, it's Alex Carrington who's making a splash. Carrington is built in a different mold than Sidbury though, with a 6'5, 284 pound body. He has great speed off the snap, but also has the strength and hands to attack the chest of tackles to go right through them. Carrington has made as big an impact as anyone could have imagined, including a pair of plays where he beat Mike Iupati in one-on-one drills, while drawing some buzz in the stands. To me, it's still stunning with how underrated Brandon Graham is. Few people look at his size and short arms to pinpoint downfalls on Graham, but that's all he has going against him really. He's been stout against the run and has some of the best hand use I've seen coming of out college in the last several years. He plays the run well, but also has the athleticism to potentially stand up, which we should get a good look at next month. With the way he's played this week, he continues to remind of LaMarr Woodley and even a little bit of Trent Cole. Tyson Alualu was another player who benefited himself from Tuesday's practice. He doesn't have the elite skill set, but works from whistle to whistle and continues to battle on the field. Austen Lane jumped out on several occasions in the drills. Cam Thomas is a guy I was hoping to see give some solid snaps and impressive bull rushes this week, but they haven't come so far. In fact, he was stood up on back-to-back plays by Eric Olsen.
Donald Butler, the linebacker from Washington, was a player that caught my eye today. He's one of the more athletic linebackers here this week and should be able to play nickel linebacker in the NFL. He looked good going up against running backs in blitz drills. Daryl Washington also made some nice moves in the same drill. Sean Weatherspoon is another athletic linebacker with great range. In the team portion of practice, he flowed well from sideline to sideline and did a nice job of disengaging from blockers on several plays.
Continuing from yesterday, Kyle Wilson picked up where he left off. Though he didn't get his hands on as many balls, it's obvious that he's the most polished cornerback on this North team. His football IQ is high and he plays with sound technique play after play. I'd be shocked if he didn't find himself in the first round after this week. Syd'Quan Thompson is another corner really turning heads. He isn't as polished or as good a cover corner, but exciting to watch because of his physical play. Thompson isn't afraid to jam receivers at the line and is also a willing tackler in run support. He excels at reading and breaking on 3-step drops, but can be beat down the field, as he was by Mardy Gilyard today. I liked the instincts and ball skills I saw from Brandon Ghee today. Chris Cook is one of the bigger corners (6'2, 212) who is a potential switch to safety in the NFL. Today Cook showed me the ability to flip and turn like a corner, which is one of many skills he'll need to hang with smaller, quicker receivers at the next level. Devin McCourty wasn't as good today as he was Monday, but is still probably the second best cornerback on the North team and was difficult to beat deep. He has great recovery speed and pretty good ball skills.
After a good practice from the North team, I expect to see an even cleaner practice tomorrow with a couple players on the rise to breakout and really turn some heads. Wednesday will feature another practice in pads, most likely the final one, so it should be a pivotal day for a number of players trying to generate some buzz. The NFL Network will cover the North team practice once again from 12:00-1:00PM.
Continue to Tuesday's South practice recap -->
NFL Draft | 2016 NFL Mock Drafts | Profiles | 2016 NFL Free Agents | NFL Forum | Contact
Copyright &copy 2016 FootballsFuture.com. Do not duplicate or redistribute an any form.
Privacy Policy